Tuesday, October 22nd, 2013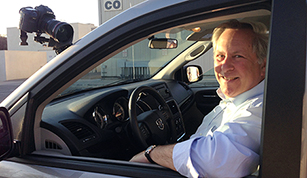 Reporter David Hoffman drives around Tucson, Ariz., after a day of filming at the University of Arizona Medical Center.
David Hoffman is no stranger to national security threats. As The Washington Post bureau chief in Jerusalem and then Moscow in the 1990s, Hoffman covered the ongoing Israeli-Palestinian conflict and the aftermath of the Cold War. But last year, Hoffman's sources in the health and science community told him about a new kind of threat —and it's not a biological weapon like the anthrax scare in 2001.
"My sources talked about how biological weapons are actually less of a threat than Mother Nature, so to speak," Hoffman says. "A big part of the worry about disease is a terrorism concern, and while that would be terrible, people face biological threats all the time."
Specifically, Hoffman's sources told him about NDM-1, a gene that makes bacteria resistant to antibiotics. Bacteria can pass NDM-1 and similar molecules around quickly, making our best medicines powerless in the face of new diseases. "NDM-1 was showing that you can have bacteria coaches showing other bacteria how to become resistant," Hoffman says, making it part of a category of infections called "superbugs" for their super-resilient nature.
The scientific community has been warning about "superbugs" for years, and many scientists believe resistance to antibiotics is as old as the drugs themselves. One called KPC, or klebsiella pneumoniae carbapenemase, infected patients in dozens of hospitals in the New York City area in the early 2000s. But since most hospitals don't want to talk about resistant infections spreading through their wards, little was still known about them when Hoffman got interested in 2012. Then the National Institutes of Health in Bethesda, Md., made a startling confession: In the previous year, its clinical center had an outbreak of KPC. It infected 18 people, and six of them died.
"Knowing NDM-1 was out there, I was really interested" in what happened at the NIH, Hoffman says. In a scholarly journal article, the NIH wrote a detailed accounting of its outbreak, revealing how it spread clandestinely over several months, and the innovative ways it found to track the KPC around the hospital. Hoffman called Larry J. Thompson, a former Washington Post colleague who is now working in communications at the NIH, to learn more, and he interviewed doctors and administrators at the clinical center. Hoffman realized that the fact that NIH had a superbug outbreak wasn't the unique thing; it's that they were willing to talk about it. "I think NIH did a really courageous thing. Other hospitals have had outbreaks and never told anybody," Hoffman says.
Wanting to dig in more, Hoffman pitched PBS FRONTLINE with the idea of making a film about the rise of antimicrobial resistance worldwide. "The central question was, how did this happen?" Hoffman says. How did an organism with a mortality rate over 50 percent get into the country's most prestigious research hospital, and how did they stop it? FRONTLINE executives agreed and matched Hoffman with Washington-based producer Rick Young, whose team most recently made a documentary about campaign finance, "Big Sky, Big Money," which won an Emmy Award earlier this month.
In January 2013, Hoffman, Young, co-producer and editor Tony Szulc, and associate producers Emma Schwartz and Fritz Kramer started meeting once a week over coffee, and the film's focus began to broaden. Now "we're asking, how did this happen to the country and to the world? We're all pushing off in different directions to answer that," Hoffman says.
Their investigation has taken them to major pharmaceutical companies, animal farms that feed antibiotics to livestock, the Centers for Disease Control and Prevention in Atlanta, and an intensive-care unit at a hospital in Tucson, Ariz., among other places. The storylines they're featuring show the urgency of the global public health crisis we now face.
Making the transition from reporting on politics and elections to microbiology hasn't always been easy. "Of course it's a challenge," Hoffman says, "but there's enormous and fascinating literature and we all read it — about genomics, bacteria, antimicrobial-resistance mechanisms." They dug in, sharing good resources through an e-mail group they set up.
While getting the science right is important, Young emphasizes that the film's focus isn't on the scientific minutiae of superbugs. "We're not NOVA," Young says, referring to FRONTLINE's award-winning sister program, focused on science and also seen on PBS stations. "We're more concerned with understanding how this threat is playing out, how it's affecting the public and what's being done about it."
After reporting this story for almost a year, Hoffman admits there are still things he can't answer, but it's not a matter of needing to do more reporting. "We have the best science available, but still there are unanswered questions," he says. "The bugs are fighting back. Do we have a chance to stop them? Can we develop new antibiotics?" Science shows us that evolution is relentless, Hoffman says. With antibiotics, "We may have bent the curve of evolution," and slowed the common diseases that used to kill off people in large numbers. Now, he asks, "Are we bending it back?"
Listen to Terry Gross interview David Hoffman on NPR's "Fresh Air" and a recent opinion piece he wrote for The Washington Post about the need to act now.