Thursday, February 3rd, 2011
FRONTLINE/Workshop producer Rick Young and reporter William W. Cummings developed this story over six months, drawing on numerous interviews with government officials at the federal, state and local levels in the United States and Mexico as well as a review of hundreds of pages of documents, including trial transcripts and extensive investigative files obtained by the Investigative Reporting Workshop.
The Workshop, FRONTLINE, the Center for Public Integrity, the Romanian Centre for Investigative Journalism and InSight, a website co-sponsored by American University's Center for Latin American and Latino Studies, have pieced together a story stretching from Europe to the United States to Mexico. Our combined reportage will be featured on the sites of all four news organizations. We also will continue to develop new stories and add updates over the coming months.
Armed with assault rifles and hand grenades, Arturo Beltran Leyva, head of one of the most ruthless drug cartels in Mexico, battled hundreds of Mexican navy commandos with six of his bodyguards from a luxury high-rise Cuernavaca apartment in December 2009. Two hours later, Beltran Leyva and his men lay dead amid the heavy stench of gunpowder, pools of blood and puddles of water from pipes pierced by gunfire. A grenade killed one commando and wounded six others, and a passerby died from a gunshot wound.
At the time, the takedown of Beltran Leyva was heralded as the high point of Mexican President Felipe Calderon's war against the cartels and as evidence of growing U.S.-Mexico bilateral effectiveness. In a classified cable from the U.S. Embassy in Mexico City, and recently disclosed by WikiLeaks, officials hailed the military operation as "one of the greatest successes to date in the counternarcotics fight."
Not mentioned in the celebratory cable, however, was that during the weeklong chase and takedown of Beltran Leyva, Mexican authorities seized a wartime cache of weapons, grenades, scopes, silencers and nearly 9,000 rounds of ammunition. Many of the guns recovered in the operation would later be traced back to the United States. More alarming, nearly half of the 62 rifles seized were Romanian AK-47s that had come from a single gun shop, X Caliber, in the north suburbs of Phoenix.
Regulatory, legal shortcomings let guns flow
Even though state trial transcripts and federal investigative records obtained by the Investigative Reporting Workshop suggest that X Caliber's owner knew he was falsifying gun purchase records and selling guns to traffickers, an Arizona judge threw the case out of court. And Justice Department officials have declined to bring charges against him in federal court.
The story of X Caliber provides a window into the operational methods of gunrunners and exposes a circuitous and little-known pipeline of assault weapons extending more than 7,000 miles, from Romania through the United States and into Mexico. Along the way, Romanian AKs, now among the most popular "weapons of choice" for the cartels, are "reconfigured" to circumnavigate import restrictions and increase their marketability and profitability. A new report by the U.S. Bureau of Alcohol, Tobacco, Firearms and Explosives (ATF) shows that the WASR-10, the Romanian version of the AK-47, is the gun most often traced to crimes in Mexico.
How the X Caliber case unfolded sheds light on the challenges faced by U.S. law enforcement officials in pursuing gun traffickers, including limited enforcement resources and regulatory authority. It also reveals the high cost of prosecutorial inertia and inadequate anti-gun trafficking laws.
"We're declaring ourselves … to be the allies of the Mexican government and fighting against the cartels," former Arizona Attorney General Terry Goddard (D) said in a recent interview. "And yet through official inaction, the United States is, in fact, arming the cartels. That's something I think we all bear responsibility for."
Dozens of guns purchased at X Caliber have surfaced at Mexican crime scenes, according to ATF data. Investigators believe that more than 700 weapons bought at the gun store were trafficked across the border, and records show that at least 320 of these were the popular Romanian AK-47s, similar to those recovered during the takedown of Beltran Leyva. And yet, today, nearly two years after the case went to trial in Arizona state court, only one trafficker served time and has since been released.
The most common MO
The investigation of X Caliber, code-named Operation Yellowstone, started with a tip from the very person who would become the focus of the investigation, store owner George Iknadosian. In the summer of 2007, the ATF initiated an investigation of a suspected gun trafficker, Fidel Hernandez, who had purchased dozens of firearms, including pistols and handguns, at X Caliber. As required by law, Iknadosian had notified ATF when Hernandez purchased more than one handgun within a five-day period.
X Caliber owner George Iknadosian
That lawful notification led ATF agents into X Caliber, and ultimately to an arrest of Hernandez, who told agents that he bought about six guns a week at X Caliber because he received good deals from Iknadosian. At the time, the agents didn't suspect the gun dealer of wrongdoing. But in reviewing store sales records, they became interested in another gun buyer, Grant Dorman, who, on two visits to X Caliber, bought a total of 13 Romanian AK-47s, called WASR-10s.
When agents interviewed Dorman at his mother's house, where he lived, the 19-year-old initially claimed he bought just one rifle from X Caliber. But when pressed, Dorman conceded that he bought several guns and had falsely filled out an ATF 4473 purchase form, in which he claimed to be the "actual buyer" of the firearm, when, in reality, he was buying guns on "behalf of another person." Dorman was a "straw purchaser," a facilitator in what federal authorities say is the most common MO of gun traffickers today.
Transporting firearms across the border without an export license is a federal offense. But there are few outbound controls along the U.S.-Mexico border, gunrunning is difficult to detect and, as with northbound drug trafficking, the smuggling routes are regularly altered. Trace data from guns recovered at crime scenes are the primary source of intelligence on gun traffickers, according to former ATF supervisor Jay Wachtel, who ran a gun-trafficking task force in the 1990s. In addition, law enforcement agencies often rely on tips from U.S. gun dealers or investigative leads that are developed by ATF agents or local law enforcement to identify and pursue traffickers.
But progress is painstaking. Gunrunning investigations "take a lot of manpower, a lot of time and a tremendous amount of effort to put together," Wachtel said.
'The face of suburban America'
Through interviews and examinations of X Caliber's store records, investigators began to piece together the outline of what authorities said was a typical trafficking operation. Cesar and Hugo Gamez, brothers in their 20s, ran the gun-buying enterprise. Cesar was in charge of collecting the guns. Hugo was responsible for recruiting the "straw purchasers."
Many of the buyers, like Dorman, worked with Hugo at Gordon Darby, an automobile emissions-testing facility. They were young kids eager to make a buck, or, as one law enforcement official said, the "face of suburban America."
Investigators discovered a pattern. The "straw purchasers" often entered X Caliber and told Iknadosian they were "here for Cesar," or simply "here for C." Sometimes, the ATF form 4473 was partially completed. Often, they signed the form and left the store, without paying any money or taking any guns, which were later picked up by Cesar. The buyers told investigators that they were paid $100 for every gun they had "purchased."
Camron Galloway was another member of the Gamez team. Galloway also worked at Gordon Darby and was introduced to Iknadosian in late 2007 as "one of the new guys" working for Cesar. In one month, the 21-year-old Galloway visited X Caliber on three occasions and signed as the buyer of 13 WASR-10s. But Galloway neither paid for the guns nor left the store with any, according to his testimony at the Iknadosian trial. The payments and pickups were handled by Cesar.
"These people were so transparent that they not only filled out the form falsely but they didn't even choose a gun," Goddard said. "They didn't come and buy a gun. They simply filled out the form."
Operation Yellowstone
By March 2008, investigators zeroed in on the central target of their investigation.
Iknadosian began working in gun stores in Long Beach, Calif., when he was 23. His family was in the insurance business, but his sister told investigators that George "had always been crazy about guns." In 1995, Iknadosian stepped out on his own, opening his first gun store down the street from where he had worked.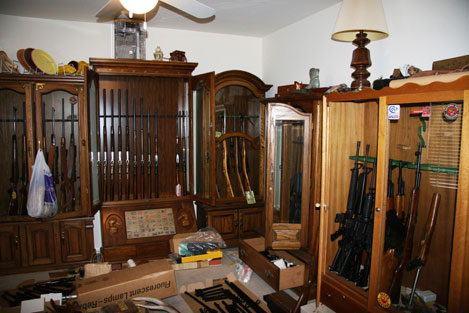 Police found 61 guns in Iknadosian's home during his arrest. All but one of them were found in this room.
In 2004, Iknadosian moved his business to Arizona. Several witnesses told investigators that Iknadosian left California because gun laws were too strict and the paperwork too burdensome. With a $75,000 loan from his sister, he sold guns out of his new home in Phoenix before setting up shop next to a hair salon along Cave Creek Road in the northern suburbs.
The business grew briskly. In 2005, X Caliber had about $490,000 in sales and was on a pace to nearly double revenue within just three years, according to Phoenix Police Department reports. Investigators noted that much of the business was done in cash.
Interviews with the various straw purchasers convinced investigators that Iknadosian not only knew that he was selling to straw purchasers but also was willfully participating in a criminal gun-trafficking enterprise.
The wire
ATF agents believed they had a strong federal case against Iknadosian. But the agents met resistance inside the Phoenix U.S. Attorney's Office, according to government officials knowledgeable about the case. While the legal terrain on prosecuting straw purchase sales was complicated, bringing gun cases simply wasn't a high priority at the time, the officials said.
"We had the [false] 4473s, and we had the straw buyers' confessions," said one official, "and they kept saying that's not enough."
To keep the case alive, ATF turned to the Arizona Attorney General's Office, which typically handles the smaller prosecutions of straw purchasers. Goddard, then the attorney general, had just returned from a conference in Cuernavaca, where Mexican authorities were pleading for help from the United States in curtailing the flow of weapons across the border. "Very shortly after that meeting, our investigators and ATF presented the X Caliber case to me, and I jumped on it," Goddard said.
But state prosecutors wanted more evidence about Iknadosian's knowledge of the operation. For that, investigators turned to Anthony Uzeta, one of the Gamez brothers' more active straw purchasers. Facing the prospect of prosecution himself, Uzeta, 19, agreed to wear a wire and return to X Caliber for more buys.
It was pretty clear to authorities which weapon the straw buyers wanted: the Romanian-made WASR-10. Of the 234 weapons known to have been bought by straw buyers for the Gamez brothers, 227 were WASR-10s.
ATF data obtained last week by the Workshop shows that the WASR-10 is the No. 1 crime gun recovered in Mexico over the past four years — 503 out of 2,921 guns that were recovered, traced and purchased between December 2006 and November 2010. All the WASR-10s were imported into the United States by Century International Arms of Gerorgia, Vt.
According to the investigative file, Uzeta bought a total of 12 Romanian AKs from Iknadosian on five separate visits to X Caliber in April 2008. On each occasion, Uzeta arranged to have the firearms later signed for and picked up by "friends," who turned out to be undercover agents from the Phoenix Police Department or ATF. In the audio recordings of conversations between Uzeta and the loquacious Iknadosian, which were obtained by the Workshop, prosecutors got the evidence that they felt they needed to establish the owner's involvement in the criminal enterprise.
In the wire, Iknadosian can be heard counseling Uzeta not to get "greedy." The store owner repeatedly extols the benefits of buying just a couple of guns at a time so the purchases don't attract the attention of ATF agents looking through his books. "If you get pulled over, two is no biggie," he said to Uzeta. "Four is a question. Fifteen is: 'What are you doing?' "
In another conversation, Iknadosian warned that Fridays were bad days to move guns to the border, but Mondays were much better because police were busy "following up what they had done over the weekend."
According to the prosecutors, the recordings suggest that Iknadosian well understood the legal implications of what he was saying. "I'm not supposed to be advising, and none of this should be brought up, ever," he said. "My job is to sell. When you guys buy them, I run the paperwork, you're OK, you're gone. And I get the money, and I don't give a crap."
Iknadosian declined to be interviewed. His attorney, Thomas Baker, said that the audio wires do not prove anything because his client was "baited" by Uzeta and that Iknadosian was merely making references to another case involving other cases that ATF agents had told him about.
'Going South'
In the early morning of May 6, 2008, a task force of ATF agents and detectives from the Phoenix Police Department arrested Iknadosian at his home in Glendale. A search of the house recovered 61 guns, all found in one room with the exception of a .380 semiautomatic pistol holstered on a pair of jeans in the master bedroom.
The arrest was without incident, and, for investigators, provided further proof of Iknadosian's involvement, according to the trial transcripts. At the time of the arrest, ATF agent Clayton Merrill asked Iknadosian if he knew where the guns he had sold to the Gamez brothers were going.
"South," Iknadosian said.
Merrill asked Iknadosian, "How far south?"
"Mexico," Iknadosian replied.
Baker, Iknadosian's lawyer, argued at the trial that the conversation had been mischaracterized. The store owner, he said, had responded to a question with a question, merely guessing, "Mexico?"
Within weeks of the arrest, prosecutors got what they considered to be a big break. Guns bought at X Caliber by the Gamez brothers' operation were beginning to surface at Mexican crime scenes. This, prosecutors believed, established a direct link between the fraudulent "straw purchases" and the Mexican cartels.
WASR-10 purchased at X Caliber and later seized by Mexican police following a shootout in which eight officers were killed.
One of the first connections to a Gamez gun bought at X Caliber was a trace "hit" from a bloody five-hour fight between Mexican police and members of the Beltran Leyva cartel on May 26, 2008, in Culiacan. Eight police officers were killed and three were wounded. One of the Romanian AK-47s recovered at the scene had been purchased from X Caliber less than four months earlier.
The quick "time to crime," as it is known within law enforcement, was of particular interest to investigators, further proof that X Caliber guns were part of a direct cartel-buying pipeline.
"All the pieces of the puzzle fell into place," said one official involved in the case.
The trial phase
By the time it went to trial in March 2009, the X Caliber case had generated both attention and expectations. Prosecutions of gun dealers for gun trafficking to Mexico are rare; this was the first in Arizona.
Iknadosian was indicted on 21 charges, including conspiracy to traffic weapons, money laundering and 17 counts of fraud. The trial attracted national and international media attention.
"The important part of this case is the number of weapons that ended up at crime scenes in Mexico," Goddard told The Arizona Republic during the trial. "There's no question that he [Iknadosian] was a specialist. He was able to get the weapons they wanted in the volumes they needed."
But the judge was not persuaded. On the eighth day of trial, Judge Robert Gottsfield issued a surprising and rare directed verdict from the bench, dismissing all the charges against Iknadosian.
"There is no proof, whatsoever, that any prohibited possessor ever ended up with the firearms," Judge Gottsfield wrote in his decision to throw out the case.
The decision turned on a limited and controversial definition of straw purchasing. Citing a 9th U.S. Circuit Court of Appeals opinion, Gottsfield wrote that buying guns on behalf of another person is illegal only if that person is prohibited from buying a gun for being a felon or a juvenile or from having been adjudicated mentally ill.
Iknadosian's lawyer said the case law is clear. The straw purchasers may have been buying for the Gamez brothers, said Baker, but "the Gamez brothers were not prohibited." Furthermore, he argued, there was no evidence that Iknadosian knew that the guns were going to a prohibited person. He thought the guns were going to gun shows for resale, according to Baker.
Hoping to reverse their fortunes in federal court, ATF officials sought help again from the U.S. Attorney's Office in Phoenix in the summer of 2009. But after reviewing the case, the Justice Department again declined to get involved, a decision that remains controversial, according to officials knowledgeable about the discussions.
"During my time at ATF, this would seem to be a case begging for federal prosecution," said retired senior ATF lawyer Jack Patterson. The U.S. Attorney's Office declined to comment on the decision.
Some say the X Caliber case underscores the legal perils prosecutors face in trying to shutter unscrupulous dealers. "The laws were written this way on purpose to present as great an obstacle as possible to prosecuting firearms dealers," former ATF supervisor Wachtel said. "The people who write these laws, they're lawyers. They know what they're doing."
Others say the problems are also political. "Our ATF guys are about as good as you can get," said Goddard, the former attorney general. "But I do know that they've been highly frustrated that their arms are often tied by, I think, a misperception that by diligently enforcing these arms laws that we're somehow violating somebody's Second Amendment rights. And I think that causes much of the Justice Department to stay away from this area of prosecution. I hope those days are over, but the fact that they haven't picked up X Caliber I find very disturbing."
"This case is really never over"
Nearly two years after the trial, the X Caliber case remains a sensitive subject. ATF spokesman John Hageman said the agency will not comment on the case, referring all inquiries to the public trial record.
The straw purchasers who testified against Iknadosian at the trial received 18 months of probation for their role in the trafficking. Uzeta was never charged. The Gamez brothers refused to cooperate with prosecutors, opting for plea agreements. Hugo got probation. Cesar received a sentence of 2 1/2 years.
According to his attorney, Iknadosian is still fighting to recover his assets, which were seized at the time of his arrest and which he says are worth an estimated $2.2 million. He has sued the government for wrongful and malicious prosecution and for refusing to return his assets despite state court decisions ordering the government to return his property.
The ATF has notified Iknadosian that it intends to revoke his license. Iknadosian has requested a hearing, although his lawyer said he has no intention of returning to the gun sale business.
In Washington, the Obama administration is reviewing an ATF proposal to temporarily apply the requirement that dealers notify the agency of multiple sales of handguns to the sale of long guns such as Romanian AKs, which are so popular in Mexico. But that proposal, opposed by gun-rights advocates, has been mired in internal review.
Meanwhile, in Mexico, the fallout of X Caliber continues. Iknadosian, at the time of his arrest, told ATF agents that he had sold about 1,000 AK-47s in the preceding year alone. "This case is really never over," said one official who was involved in the case. "Five years from now, 10 years from now," X Caliber guns will still be turning up at Mexican crime scenes, he predicted.
Rick Schmitt of the Center for Public Integrity and Steven Dudley of InSight as well as Workshop researcher Tony Azios contributed to this report.