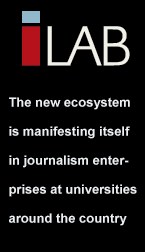 May 21, 2010
Although once housed in a rented storefront in Berkeley, Calif., Youth Radio today is thriving in an expansive former bank building in downtown Oakland.
But rather than continue renting in the challenging San Francisco Bay Area real estate market, the nonprofit organization decided to buy the 20,000-square-foot building on the corner of 17th Street and Telegraph Avenue.
The group bought the building in 2007, thanks in part to a $2.2 million, no-interest loan from the Texas-based Jenesis Group. The remainder of the $2.9 million price was made up through local and national grants.
"The best part is while we were waiting to find funding for the equipment, we weren't racking up interest," said Ellin O'Leary, chief content officer.
Meera Pal/Investigative Reporting Workshop
Ellin O'Leary and Brett Myers of Youth Radio discuss last minute changes to a story.
The multimillion dollar loan from the Jenesis Group, known as a Program Related Investment, is underutilized: Of the thousands of grantmaking foundations in the country, only a few hundred make PRIs , according to the Washington, D.C.-based Foundation Center, which keeps track of national nonprofit service organizations across the country.
Foundations are required each year to give away at least 5 percent of assets to socially responsible programs. Less than 1 percent of that giving is made through PRIs.
Julie Jensen of the Jenesis Group said they have used PRIs for some time as a funding mechanism. The group, a private family foundation, invests in opportunities for young adults.
"This is the largest PRI we've done," she said.
A longtime journalism entity, Youth Radio was recently recognized by the nonprofit Investigative Reporters and Editors for its piece, "In the Kennel: Uncovering a Navy Unit's Culture of Abuse," which was done in collaboration with National Public Radio.
But the organization also focuses on youth development, which widens its private funding options. All of its programs, from media training to health services, are free of charge. It is the group's emphasis on youth development that appealed to the Jenesis Group.
PRIs have been in the news lately with the buzz surrounding a fairly new business model called a low-profit limited liability company, or L3C. The structure merges the worlds of for-profit and nonprofit, essentially creating a business with a conscience. It has been referred to as an alternative business model for new journalism ventures.
In exchange for receiving low-interest or no-interest funding from private foundations — in the form of program-related investments — an L3C operates as a socially responsible enterprise with profit-earnings as an after-thought.
To date, no journalism groups are organized under the L3C model, but some, like the Jim O'Shea-founded Chicago News Cooperative — have expressed interest. Some are wary of being the first to test the waters and see whether an L3C journalism group could receive a PRI.
Meera Pal/Investigative Reporting Workshop
Charlie Foster inside one of Youth Radio's sound booths.
And others have policy questions on whether foundations can make investments into an L3C and still meet tax guidelines. To date, the IRS has not made an official determination on whether a private foundation's investment in an L3C would qualify as a program-related investment.
While the Jenesis Group has yet to give a PRI to an L3C, Jensen said they are open to the idea.
"If you have youth development aspects, we would consider funding other journalism entities," she added.
O'Leary spoke about Youth Radio's success in receiving a PRI at last month's Reva and David Logan Investigative Reporting Symposium at UC Berkeley, following a panel on new journalism initiatives.
She noted that they would not have been able to purchase the building and expand their programs if not for the loan from Jenesis Group, which they have seven, interest-free years to repay.
"(The loan) was designed for success," O'Leary said. "It was designed to get us in here, build out, get stabilized and then get it back."
The group had not planned to purchase, but comparable space was renting for upward of $10,000 a month. Buying the building was a leap of faith, O'Leary said.
"We knew we should do something audacious and looking out to the future," she said.

The move was about more than just a larger space. It evolved to include upgrades to technology and expanded programs.
"If you don't grow, you fall behind," she added. "Purchasing a building turned into capacity-building as the goal."

As a nonprofit, Youth Radio relies on a variety of funding sources, including fees for service, individual donors, foundation funding and now PRIs.

"PRIs can be something that gives us more time to breathe," O'Leary said. "It's really about having enough time to be successful."