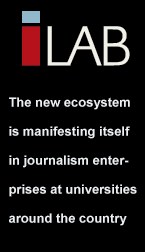 March 4, 2013
A version of this article also appears in Columbia Journalism Review.
For the first time, an iconic daily newspaper, a major university journalism program and its award-winning nonprofit newsroom are jointly hiring a respected journalist who led a team of reporters to win the 2012 Pulitzer Prize in Public Service. Philanthropic foundations are involved, too, in this collaborative constellation of kindred spirits all interested in public service journalism.
Beginning in May, John Sullivan will become a reporter on The Washington Post investigative team, a member of the journalism faculty, with the title of "Investigative Journalist in Residence" at the American University School of Communication, and a senior editor at the Investigative Reporting Workshop in Washington. Sullivan's hiring by the Post is possible because of an unusual renewable $500,000 grant by the Ford Foundation to help the important, financially beleaguered newspaper bolster its local and national enterprise reporting. Since 2008, the legendary newspaper that has won the second-highest number of Pulitzer Prizes, most famously for its stellar Watergate reporting, has been necessarily downsizing its newsroom staff, from 900 reporters and editors to fewer than 550 professionals today.
Photo by David Swanson, The Philadelphia Inquirer
John Sullivan will join the
Workshop in May.
The unusual philanthropic funding to a for-profit newspaper (the Ford Foundation made a similar grant last year to the troubled Tribune Media Co. for additional reporters at the Los Angeles Times) has enabled the Post to hire Sullivan and three other enterprise reporters who will work closely with Metropolitan Editor Vernon Loeb and Investigative Projects Editor Jeff Leen. In the joint announcement by the newspaper and American University, Post managing editor Kevin Merida said, "This model enables us to add a highly respected investigative journalist to our ranks. Holding the government accountable is core to what readers expect from The Washington Post."
Sullivan led a team of five reporters at The Philadelphia Inquirer who uncovered how students endure, in the words of the Pulitzer committee, "pervasive violence in the city schools, using powerful narratives and videos committed by children against children and to stir reforms to improve safety for teachers and students." In 2009, Sullivan and two other Inquirer reporters were Pulitzer finalists for their four-part series about how "political interests have eroded the mission of the Environmental Protection Agency and placed the nation's environment in greater jeopardy." Sullivan was at the Inquirer for roughly nine years, and earlier had worked for four years at The News & Observer in Raleigh, N.C. But when the Inquirer faltered financially in 2011, as so many other newspapers have in recent years, Sullivan left and joined the faculty at the Medill School of Journalism at Northwestern University and also became assistant director of its McCormick Foundation-funded Medill Watchdog program.
What happened next and why is a story of shared values, new synergies. I believe it is a harbinger of the next new dimension in journalism collaboration as well as the continuing evolution of the nonprofit journalism model. I'm certainly not objective — I helped to make this happen, as a tenured professor at American and the founding Executive Editor of the Workshop.
I began teaching investigative reporting there in the fall of 2006, and in late 2007 proposed and in 2008 the University approved the Workshop — named after the Children's Television Workshop, which incubated much of children's television on public broadcasting decades ago. Today the Workshop is the largest (out of 18) university-based investigative reporting centers in the U.S., and the only one in the Washington, D.C., area. We co-produce PBS FRONTLINE and other documentaries, and partner with Pulitzer Prize-winning reporters and authors. In the past four years, we have published more than 40 multimedia investigative projects, which have won six national awards and involved 35 grad students and seven professors in partnership with the leading news organizations in the U.S. Foundations and individuals have contributed about $7 million to the Workshop in its first five years of operation: the Litowitz Foundation, the MacArthur Foundation and the Park Foundation are among the most generous. We disclose our donors and do not accept anonymous contributions. We do not seek or accept contributions from corporations, labor unions, governments, political parties or advocacy organizations. In rare instances which we have disclosed, we may accept in-kind corporate contributions of otherwise unobtainable data to support our projects. We exist, almost entirely, on external funding, and the Workshop has complete editorial independence.
Why a university, and why American University? After all, most of the 74 nonprofit reporting centers in the U.S. that are members of the new Investigative News Network, nearly all of them created in the past decade, are standalone, 501 (c)(3) incorporated and tax-exempt nonprofit organizations. Universities, of course, have buildings, offices, libraries, databases, studios, video and other sophisticated and expensive equipment, not to mention earnest and exuberant students looking for something important to do the rest of their life. The physical infrastructure and the human resources are immense. I had taught at Princeton University and had a Shorenstein Fellowship at Harvard University, and guest-lectured at more than 25 colleges and universities throughout the U.S. and overseas. But I have always liked the public interest values and vibe of American University, and its history.
American University was chartered by Congress in 1893, its second-oldest building named after slain President William McKinley and dedicated by President Theodore Roosevelt in 1902. In 1963 President John Kennedy gave his seminal post-Cuban missile crisis speech at American University months before his assassination, and in 1997 American was one of the first universities in the world to give an honorary degree to courageous Burma opposition leader and Nobel Peace Prize-winner Aung San Suu Kyi. In a few months the building will become the substantially renovated, state-of-the-art new home of the School of Communication and its 50-member full-time faculty and roughly 1,100 undergraduate and graduate students. The first journalism course at American was taught in 1926, and the broadcast journalism program was founded in 1971 by Edward R. Murrow's former writer and the first editor of the CBS Evening News with Walter Cronkite at CBS, Ed Bliss. In recent years AUSOC has developed a reputation as "a hotbed for new forms of journalism," as PBS MediaShift Executive Editor Mark Glaser described it in 2009.
In late 2012, months after the Inquirer had won the Pulitzer Gold Medal, weighing several opportunities, Sullivan reached out to Loeb, his direct supervisor at the Inquirer who had played a key role in conceiving and guiding the "Assault on Learning" project for more than a year before leaving to join the Post as the Metro editor. Loeb certainly was interested in hiring Sullivan, but with the newspaper editorial staff shrinking and much of the Ford grant already allotted to pay for three earlier hires, it didn't seem possible. However, Sullivan also very much enjoyed mentoring journalism students at Northwestern, and Loeb had taught previously at Temple University, and upon returning to Washington subsequently had proposed a much deeper relationship between the Post and the American University School of Communication. In a meeting with then-Dean Larry Kirkman in 2010, they initiated a journalistic partnership that very soon blossomed into a Post Fellowship, awarded to an incoming candidate for a master's degree in journalism and public affairs at American University. That grad fellow joins a half-dozen SOC "Dean's interns," top students chosen to work directly inside the Post newsroom, reporting and writing bylined articles. In the 2011-2012 academic year alone, seven SOC students wrote and saw published 200 stories in The Washington Post, which was unprecedented.
Separately, at the School last fall, we were looking to hire a new faculty member, as longtime professor, former journalism division director and founding senior editor of the Workshop Wendell Cochran was retiring from teaching. As a member of the faculty search committee and generally, I had been hearing great things about Sullivan and met with him in downtown Washington and was enormously impressed, personally and professionally. But the hiring and tenure process for a new professor takes many months, and for various reasons, Sullivan needed to make a decision fairly quickly. That process and precise position thus would not exactly work — another more pragmatic approach was needed.
Fundamentally, Loeb wanted one more investigative reporter. So did I, as well as an investigative-minded professor and a print-oriented senior editor at the Workshop. The past one to two years, Loeb, Workshop Managing Editor Lynne Perri and I have had a few lunches, attempting to find a great story for us to investigate together, thus far not quite finding the right subject but both very much wanting to do it. The rather basic problem at the Workshop was that we had no one to actually do it, and we also couldn't quite agree on the topic. Now it looked like an exciting, mutually beneficial idea might be emerging.
Loeb called me in late October and the next day sent me an email, "To have John Sullivan come in as an American University-Washington Post investigative fellow, or whatever we end up calling him, would be a terrific accomplishment, both because John is a true force of nature, and because he would provide the bridge we've both wanted between The Post and The Investigative Workshop. Who knows what might ultimately come from that collaboration." From the time of Loeb's call, the School's new Dean, Jeff Rutenbeck, has been completely enthusiastic and supportive, as were the powers that be above him. Within weeks, before the holidays, the journalism division and the entire School of Communication had formally voted on and adopted five new courses, including a new "Investigative Reporting Practicum" course to be taught by John Sullivan from inside The Washington Post newsroom. According to then-interim journalism director, Professor Rick Rockwell, who did the heavy lifting curriculum development and secured its adoption for the fall of 2013, this will be a course "that puts our students in the Post not as interns but as extensions of the investigative team. That combined with the concentration of specialty courses makes our program unique, or one of a relative few who have similar offerings." Or as SOC Dean Rutenbeck said, "There has never been a greater need for top-notch investigative reporting. As our world gets increasingly complex, we need to provide our students with as much real-world experience as possible. This expanded partnership is exactly what's needed to take student learning to a whole new level."
Dozens of university journalism professors nationwide have a close symbiosis with newspaper or TV or radio newsrooms from whence they came, or student researchers doing internships in traditional newsrooms. But to my knowledge, this is the first time a major daily newspaper, a nonprofit publisher and a university have jointly hired a journalist to do investigative or any other kind of reporting in the United States or anywhere. I believe this extent of increased collaboration will begin to be replicated by commercial news organizations, universities and university-based reporting centers nationwide, and philanthropic foundations and individuals will help to make this possible. It is quite logical and necessary, a mutually beneficial collaboration and a win-win situation for the public and society at large — public service journalism, truth-telling and teaching a new generation how to investigate the uses and abuses of power, simultaneously. This may also be the next iteration of the nonprofit journalism ecosystem.
Charles Lewis, a former 60 Minutes producer and bestselling author who founded The Center for Public Integrity, is a professor and the founder of the Investigative Reporting Workshop at the American University School of Communication in Washington.