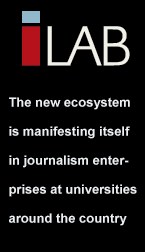 Dec. 18, 2014
Plain Speaking About TV News and Its Future was published in the
December 2014 edition of TVNews Pro.
I think we need many more enterprising journalists asking important, inconvenient questions about the uses and abuses of power and with the full support of courageous, independent station managers/news directors/owners — together serving the public interest.
For years, while leading the Center for Public Integrity, I tried to help inject more editorial substance into local TV news — in Radio and Television News Directors Foundation workshops nationwide with 200 reporters/producers and via closed-circuit "money and politics" training broadcasts, via collaborative newspaper/TV investigations about undue political influence in state legislatures in Indiana (1996), Illinois (1998) and throughout the nation (1999).
The latter case resulted in hard-hitting segments produced about state legislator conflicts of interest on nearly all of the local owned-and-operated NBC stations nationwide, potentially seen by tens of millions of viewers.
And today, there are approximately 100 nonprofit news organizations, many of them collaborating and co-publishing with local TV and radio stations throughout the U.S. But honestly, we have all only just begun to scratch the surface of "the possible" when it comes to journalistic collaboration.
While that's exciting and full of promise, the most popular traditional media news source in America is local TV. At the same time, only 20 to 30 percent of the population has access to a local all-news cable channel, according to a 2010 Federal Communication Commission study.
Indeed, it's no secret that in recent years, local TV stations' commitment to news and to public-service journalism has been on the wane. Now, one-fourth of the local TV stations in the U.S. do not produce news content, according to the Radio Television and Digital News Association. And between 2000 and 2010, as the FCC and others have noted, broadcast membership in Investigative Reporters and Editors dropped from 874 in 2000 down to 648 in 2010.
Doing more and cheaper "quick and dirty" daily stories is one thing, but who would have imagined that scores of local stations would broadcast video news releases from the Pentagon and other federal agencies during the Iraq War without identifying the source of that material?
Equally alarming, although there is no comprehensive data, too many local TV stations are running stealth commercials masquerading as "news," in which expert reviewers of various consumer products are quietly paid to plug those products, with "minimal to nonexistent disclosure" to viewers and hardly any federal prosecution for such "plugola," which is illegal.
According to the Washington Post's Paul Farhi, one-fourth of local TV news executives acknowledged "a blurring of lines between advertising and news" in a 2010 Pew survey, and these sleazy "payto-play" arrangements prompted the Association of Health Care Journalists and the Society of Professional Journalists to issue a joint statement urging local broadcast stations to curtail such practices.
Viewers nationwide mostly get local traffic, crime, weather and sports news, while local investigative reporting about the powers that be — and straight talk, facts and fi gures about the serious 21st century issues we all face — generally have become endangered species.
But, of course, money talks. And that's also why only a small percentage of local stations actually even attempt to cover the various state and local campaigns, candidates or issues.
Too often, the only way a politician can become known to the public is to literally pay the piper who calls the tune with TV ad buys at election time, because these days, name recognition is unlikely to come from political news coverage by local TV stations.
A 2004 University of Southern California Lear Center study of local TV news coverage in 11 media markets found that "only 8 percent of the 4,233 broadcasts during the month before the election had stories that even mentioned local races." Ten of the 11 markets were in states with U.S. Senate elections, "yet 94 percent of the broadcasts analyzed did not have a single story about a Senate race."
In 1980, total broadcast TV ad revenues from political commercials were $69.9 million; after the 2010 elections, it was nearly 30 times that number, over $2 billion. In the 2014 elections, Americans were subjected to 3 million political commercials, at a cost of at least $2.4 billion, according to Kantar Media and Wesleyan Media Project data. And between 1998 and 2010, political advertising as a percentage of overall annual broadcast TV revenue quadrupled, from 2.2 percent to 9.9 percent. All of these numbers continue to skyrocket.
Increasingly for local TV stations, there is a very real financial incentive not to cover politics or public issues too extensively, not to give invaluable "free media" exposure to candidates.
Is this abdication of TV broadcasters' news coverage obligation to the public at all related to the precipitous decline in the local TV station viewership and revenues since 2000? Th is probably needs more study, but how could it not be related?
Meanwhile, this shortsighted, "dumb and dumber" approach also has not exactly worked very well for network TV news or for newspapers in recent years. As Gene Roberts, the iconic former executive editor of the Philadelphia Inquirer and Pulitzer Prizewinning author, told me: "To keep the profi ts up and please Wall Street, newspapers began eating their seed corn. And they started cutting the space for news, and then the staff that gathered the news." Roberts called this strategy "a prescription for suicide ... we ended up giving the reader significantly less. And newspapers are becoming less relevant. And this is a tragedy for democracy."
Meanwhile, another year has gone by with too many vital issues of our time again unaddressed. Profiles in political courage certainly do not abound in the current mercenary media milieu — it is much easier for politicians to foment fear and anger than to propose innovative new ideas and possible solutions and actually do the very diffi cult work of forging consensus and governing. And it is much easier for TV stations to avoid public policy issues or serious, substantive news almost entirely, which saves money, and continue to reap the rising political advertising revenue, even in the non-election years. Gosh, every year seems to be an election year — funny how that works.
This has become an increasingly serious national problem; the candidates mostly remembered by voters are not necessarily the most serious, accomplished or brilliant — but only those able to raise astonishing sums of money from the wealthiest and most powerful interests, money then substantially spent on saturation political ads, commercial air time bought from the commercial TV and radio media companies.
As former president and Nobel laureate Jimmy Carter, whose Carter Center has monitored and overseen elections in 40 countries around the world, told me a few years ago, "I think our political system has been subverted in a very damaging way by the greed, primarily of the news media, television stations, who demand in this country, almost uniquely among great democracies, that candidates have to pay for their presentation of their own campaign platforms and promises through extremely expensive news media. And this is a basic fallacy of our system now."
Not surprisingly, in recent years, presidents and congresses and the FCC have been afraid, unable or unwilling to even attempt to regulate the immensely powerful broadcasting and cable TV companies, which each year cumulatively spend millions on lobbying in Washington.
But unlike all other special interests, they also control which politicians actually are seen on the air — and ensure that they actually pay for that privilege, even during public elections.
But of course, these issues don't get reported very much in the broadcast or cable media.
Charles Lewis is executive editor of the Investigative Reporting Workshop and a professor at the American University School of Communication. He also is a former ABC and CBS News "60 Minutes" producer who later founded the Center for Public Integrity, and the author of "935 Lies: The Future of Truth and the Decline of America's Moral Integrity."