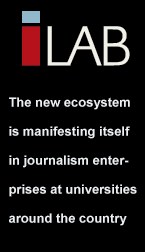 Aug. 31, 2012
The recent momentum of the new nonprofit journalism phenomenon is continuing despite the difficult U.S. economy, according to an analysis by the Investigative Reporting Workshop's iLab.
A year after publishing our initial new journalism ecosystem story, searchable database and national map, we have revisited each of the original 60 nonprofit news publishers profiled, and we have included 15 additional journalistic nonprofits, most of them recently created organizations.
ORGANIZATIONS BY NAME
ORGANIZATIONS BY STATE
See
all of the organizations
The cumulative annual operating budget totals for the original 60 nonprofit news publishers profiled in October 2010 was $84 million, not including estimated, non-disclosed budgets. A year later, these publishers' operating budgets altogether are $86 million (including the final 2011 budget of the now-defunct Capitol News Connection). The annual operating budgets of 26 organizations remained the same; for 16 publishers, their budgets increased; for 10 organizations, their operating budgets decreased; and eight groups did not disclose their numbers. With the additional 15 nonprofit publishers (excluding CNC and including Consumer Reports, which has an annual budget of $43.1 million and roughly 600 full-time employees), the total annual funding and number of employees for the 75 journalistic organizations profiled in our database is $135 million and 1,300 full-time employees, respectively.
In the past year, several of these nonprofit news organizations have distinguished themselves in numerous ways journalistically — for example, Jesse Eisinger and Jake Bernstein's investigative reporting into the questionable practices on Wall Street won ProPublica its second Pulitzer Prize in two years; PBS Frontline and the Investigative Reporting Workshop's (producers Rick Young and Catherine Rentz and correspondent Miles O'Brien) co-production Flying Cheap about the safety of regional airlines won the Society of Professional Journalists national Documentaries award; the Center for Public Integrity/International Consortium of Investigative Journalists (Jim Morris, Steve Bradshaw, Ana Avila, Murali Krishnan, Roman Shleynov, Scilla Alecci, Te-Ping Chen, Dan Ettinger, Carlos Eduardo Huertas, Shantanu Guha Ray, Marcelo Soares, Abhishek Upadhyay, David Kaplan, Marina Walker Guevara and Anne Koch) and the BBC International News Services won the IRE Medal for their partnership/collaboration about "Dangers in the Dust: Inside the Global Asbestos Trade"; the Voice of San Diego won the Online News Association's award for general excellence (small market); and New America Media founder and executive editor Sandy Close — who organized the Chauncey Bailey Project in 2007, a team of area reporters whose investigative journalism led local police to arrest the perpetrators of Oakland Post editor Bailey's murder — received the George Polk Career Award.
Changes since last November
Of the original 60 organizations profiled a year ago, as noted above, one of them ceased operation in September. Capitol News Connection, a "Congressional watchdog reporting service" founded and led by veteran journalist Melinda Wittstock since 2003, produced 32,594 spots and 7,094 explanatory and "investigative features," and at its peak was heard by 3.1 million people on 211 public radio stations. CNC tried unsuccessfully to replace lost foundation funding in a "crippling recession that has also had a deep impact on its subscribing public radio stations, also struggling with (the) loss of government funding." Wittstock said when the announcement was made, "This is a sad day for American journalism and our democracy. With so many critical challenges facing our nation, Americans deserve investigative reporting into the local impacts of deals and decisions made on Capitol Hill. All politics IS local, and CNC helped hold power to account."
In October 2010, we found that "At least eight nonprofits chronicled here and possibly more have annual operating budgets of less than $100,000, which means that several experienced journalists are working for little or no pay, volunteering their knowledge and time in the valiant, heroic attempt to create a new institution out of thin air." Now, including the additional 15 nonprofits, there are at least 10 organizations with annual budgets under $100,000 — Aspen Journalism, Austin Bulldog, Broward Bulldog, Centro de Periodismo, Chicago Talks, Common Language Project, Maine Center for Public Interest Reporting, Midwest Center for Investigative Reporting, Newsdesk, San Francisco Public Press. However, there may be more — of the 10 nonprofit news organizations that did not respond to our request for annual operating budget information, four are very small, with only one or two employees, which suggests there are very possibly other, less than $100,000 organizations operating substantially on "sweat equity," heart and hope.
Most of the funding for these new journalistic nonprofits comes from philanthropic foundations and individuals. In June 2009, Jan Schaffer's J-Lab (the Institute for Interactive Journalism) published New Media Makers, which found that at least 180 U.S. foundations had spent nearly $128 million since 2005 on news and information projects, and half of that was for investigative reporting by nonprofit centers. These numbers were painstakingly tabulated from IRS 990 documents; the total amount spent is widely regarded as understated, and it also did not include the substantial foundation and individual funding given each year to public broadcasting.
Nonetheless, it is the only known, national attempt at assessing the precise extent of current philanthropy to support the new journalism ecosystem. And it is obvious from our grantee research that there continues to be substantial donor support enabling this work. Meanwhile, many of the organizations profiled here have been experimenting with various ways of revenue generation en route to greater financial diversity. For example, such organizations as the Center for Investigative Reporting's California Watch, the Center for Public Integrity, MinnPost, ProPublica and Voice of San Diego have been selling advertising on their websites, and California Watch continues to sell its "solution-oriented" investigative content to scores of newspapers and other outlets throughout the state (for more about this, see CIR executive director Robert Rosenthal's excellent report, Reinventing Journalism). ProPublica has been experimenting with selling its long investigative stories online as ebook Kindle and Amazon "singles."
All of these organizations and many others — 61 in total thus far — are members of the Investigative News Network, a "growing consortium of nonprofit news organizations . . . that produces nonpartisan investigative and public service journalism on a local, regional and national basis." INN, led by chief executive officer Kevin Davis, signed a revenue-sharing, syndication agreement granting access to its members' daily content in May.
In October, Davis was invited to speak at a Federal Communications Commission (FCC) public hearing held at Arizona State University's Walter Cronkite School of Journalism and Mass Communication, in the context of the FCC's recent report, Information Needs of Communities: The Changing Media Landscape in a Broadband Age. He spoke about the journalistic successes of INN member organizations, but he also criticized the unusually long and debilitating delays in the Internal Revenue Service's approval of 501(c)(3) applications — including INN's own application, which the IRS has had for 16 months, since July 26, 2010. Many major donors will not contribute follow-up funding to a nonprofit that has not yet gotten its tax-exempt status, so this additional impediment in a deep recession can certainly hurt or even doom some new enterprises.
IRS holdups
One startup organization that has had to wait for IRS tax exempt approval is the New Orleans nonprofit news organization The Lens. Its managing editor recently told the Columbia Journalism Review, "We've been told our application will be reviewed up to the right hand of God."
The most poignant example of how significant the surprisingly protracted IRS nonprofit tax status decision-making process can be to startup organizations is the San Francisco Public Press. Its annual budget dropped from $575,695 in 2010 to $80,000 this year. The organization has been waiting nearly two years for the Internal Revenue Service to approve its 501(c)(3) application for tax-exempt status, which is almost unheard of. Asked if the IRS' laggard handling of the application is hindering his organization's progress, founder Michael Stoll told us, "We've been told by a few foundations that it would be better for us to apply for grants from them when we got our 501(c)3 (status). So we're kind of in a holding pattern for major funding. We've also been told in absolute terms by a few companies that provide free or discounted services and products to nonprofits that they won't consider donating to us without independent nonprofit status. Those are their rules. So, yes, the delay has hurt us." (See recent coverage of the IRS stall regarding journalistic nonprofits in the Chronicle of Philanthropy and in CJR by Ryan Chittum and Steven Waldman).
Trends
Meanwhile, there are some overall trends from the gathered data that further illuminate the new nonprofit journalism ecosystem. For example, a year ago looking at 60 nonprofits, we found 14 investigative reporting centers within or affiliated with universities (but as separate 501 (c)(3) organizations); in this year's wider analysis of 75 journalistic organizations, we found 17 centers or programs at or affiliated somehow with universities.
The disclosure of donors by nonprofit news organizations seems to be improving. Of the original 60 nonprofit news publishers profiled a year ago, 47 of them or 78 percent disclosed their donors on their websites; a year later, the number of those 60 organizations disclosing their donors online has risen to 53 groups or 88 percent. This increase could be somewhat related to the adoption last January by the Investigative News Network (INN) of formal membership standards — specifically "donor transparency" for member organizations, in particular a requirement that all contributions above $1,000 be disclosed; that policy was approved by the INN Board just weeks after the release of the first Ecosystem report revealed a lack of donor transparency by several organizations (41 of the original 60 nonprofits analyzed last year were members of INN at the time; today, of the expanded analysis of 75 organizations, 49 are INN members). And of those 75 organizations examined for this report, 64 (85 percent) disclose their sources of funding on their websites.
The organizations that do not disclose their donors are: Chicago Innocence Project, Christian Science Monitor, High Country News, Maine Center for Public Interest Reporting, Michigan News Center, Midwest Center for Investigative Reporting, Mother Jones, The Alicia Patterson Foundation, The Texas Observer.
Of the original 60 organizations profiled, we found a year ago that 30 of them or half had an ethics/editorial policy; that number has now increased to 42 publishers. And of the 75 organizations analyzed this time, 46 of them (61 percent) have an ethics/editorial policy. Those publishers who reported to us that they have no editorial/ethics policy are:
Aspen Journalism, California HealthCare Foundation Center for Health Reporting, Center for Investigative Reporting, Center for Responsive Politics, Chicago Talks, City Limits, Fair Warning, Michigan News Center, Midwest Center for Investigative Reporting, Nation Institute Investigative Fund, National Institute for Money in State Politics, New America Media, Newsdesk.org, The Bay Citizen, The Chicago Reporter, The Fund for Investigative Journalism, The National Institute for Computer-Assisted Reporting (NICAR), The Rocky Mountain Investigative News Network (I-News), The Schuster Institute for Investigative Journalism at Brandeis University, The Texas Observer, The Texas Tribune, Toni Stabile Center for Investigative Journalism, Youth Today.
These are the organizations that reported something other than "Yes" regarding having an ethics policy (and their responses):
Full disclosure: Charles Lewis is associated with several of the nonprofit journalism organizations mentioned in this report. Besides his role as the founding executive editor of the Investigative Reporting Workshop at American University, he serves on the boards of the Center for Public Integrity (which he also founded), the Fund for Investigative Journalism, the Investigative News Network (which he co-founded), the Investigative Newsource (formerly the Watchdog Institute) and the Wisconsin Center for Investigative Journalism. In the recent past, he has also served on the Board of FairWarning and the advisory board of Kaiser Health News; he currently also serves on the advisory boards of the Canadian Centre for Investigative Journalism, the International Reporting Project and the New England Center for Investigative Reporting.