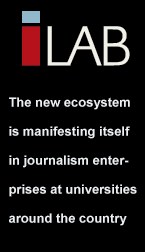 April 15, 2013
Journalism in Russia is much better off today than it was 15 years ago, but the problems that impede Russian media outlets now are just as much related to the economy as they are to censorship, according to esteemed Russian journalists who spoke on the future of investigative reporting at a panel in Washington, D.C., last week at the Kennan Institute.
Elizaveta Osetinskaya, editor-in-chief of the Russian edition of Forbes magazine, pinpointed advancements in resources such as databases, increased competition with independent bloggers and the addition of international media companies to the Russian industry as factors for the development of investigative reporting in the country.
"The most important aspect is that the quality of investigative journalism improved significantly," she said. The panel of journalists and scholars acknowledged the persistent threat against reporters in the country, including censorship and the difficultly of acquiring sources because of fear of retaliation. Journalist Elena Milashina recalled several former colleagues and friends who were murdered while investigating corruption by the government. Few of these cases were ever investigated or tried. Milashina said threats against journalists' lives still exist today.
Photo by Mattison E. Brady, Kennan Institute
Elizaveta Osetinskaya says the quality of journalism has improved.
She said the future "looks very bright; journalists are doing better and better. But the future of the country looks very predictable," she said.
Ivan Ninenko is the deputy director of Transparency International Russia and co-anchor of the weekly television program "Corruption on the Rain." He detailed the economic context that fuels much of the investigative reporting in Russia.
Misuse of money with little or no accountability is one of the biggest issues that journalists confront. "There are huge amounts of money being laundered out of Russia," he said. "How do you buy a $2 million apartment if your reported income was less than $100,000 a year?"
In highlighting the similarities between Russian and international media, several panelists cautioned the audience about determining government corruption and censorship to be distinctly Russian. Ninenko compared censorship attempts by Russian authorities with the case of Pfc. Bradley Manning, an Army intelligence analyst charged with leaking classified material to WikiLeaks.
The panelists said any government can attempt to quiet those who expose wrongdoing — whether a reporter or average citizen. While the panelists also acknowledged that Russia still has a long way to go before a free press and transparent government are achieved, they all also stressed that problems facing Russian media outlets are not unique to them.
Writer Svetlana Reiter and journalist Nataliya Rostova noted the growing number of Russian publications closing their doors, not because of censorship but because of an inability to generate adequate revenue. Combined with the shortened attention span of the average news seeker, Reiter said the market for quality reporting done over time just isn't there anymore. "It's a crisis for investigative reporting everywhere," she said. "The problems are economical and political."