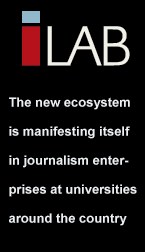 Nov. 27, 2017
Photo by Michael Schmidt, special to ProPublica
A ProPublica reporter wondered why a southwest Illinois juvenile facility was sending teenage inmates to adult prisons.
While serving time in the juvenile facility, some young men received additional punishment after getting into altercations with the guards. Instead of being punished within the Illinois Youth Center in Harrisburg, the teenagers were sent to prisons like the Western Illinois Correctional Center.
Duaa Eldeib gathered documents, mailed letters to prisons and interviewed inmates through glass to figure out why. Two months later, the juvenile-justice reporter produced "For Some Youths, 'Minor' Offenses Lead to Major Sentences in Adult Prison."
Eldeib initially heard about the issues in the youth center from her previous juvenile-justice coverage and conversations with sources. But she needed evidence before deciding if it was a valid story.
"The problem is, with most stories that involve youth in the juvenile-justice system, getting those records are challenging," she said. "But it's a key part."
She filed more than 10 Freedom of Information Act requests, retrieved court records, examined law enforcement documents and reconnected with sources.
"The idea was to pull together all these pieces to see if I could form one complete picture," she said. "And once I had the data and the reports, I knew I had a story."
Her findings revealed that in the past two years, employees at the Harrisburg youth center filed the most criminal charges for staff assaults in the state. The number of charges outnumbered the four other youth facilities' staff assault charges combined.
Court records also showed that the attorney general of Saline County, where Harrisburg, Illinois, is located, had sought 40 criminal cases against young men at the youth center since 2016. Although some cases were pending and others thrown out, nearly a dozen young men were convicted of felony battery charges and sentenced to three to eight years in adult prison.
"A few years ago, these incidents would have cost the teenagers their privileges, earned them a stint in solitary confinement or added time to their juvenile sentences," Eldeib reported.
Some of her sources were in prison so requests had to be mailed. Most prisoners accepted her interview requests without additional letters or other outreach to persuade them, Eldeib said. She recalled only one who didn't respond to her letter.
"A number of them actually wrote back saying they wanted to talk to me," she said. "But the prison interview process in Illinois can be cumbersome, and I wasn't able to get interviews with most of them in time for the story."
Photo by Nick Schnelle for ProPublica Illinois
Jaylan Banks was sentenced to adult prison after initially being sentenced to a youth center.
A week before the story was posted, Eldeib was cleared to interview 18-year-old Jaylan Banks, who was initially sentenced to the youth center for armed robbery when he was 16. In August, Banks was sentenced to eight years in adult prison for punching a youth center guard when he was 17.
"I think for a lot of people in prison, in the criminal-justice system, they actually want their story told," Eldeib said. "They want the world to kind of hear about their story and what happened to them."
Eldeib interviewed Banks in a room with one supervisor present. She worked to steer him away from one- or two-word answers. But it was her interview with Lavell Staples that Eldeib said was more difficult.
Staples was originally sentenced to the youth center on marijuana charges, according to Eldeib's report. But the 18-year-old was punished again in January after he placed paper on his door window "to shut out the world" and a guard demanded it be removed. Staples refused.
"Staples said he got up to leave and slid by the guard and out the door, then flipped over a table," read the story. "The guard, according to records, said Staples shoved him in the chest as he tried to force his way out."
Eldeib's interview with Staples took place in a community area where the inmates were on one side of the glass wall speaking to their visitors who sat on the other side.
"So you really had to focus and tune out the rest of the conversations that were going on at the exact same time that you were trying to interview," she said.
Eldeib gathered the pieces of the puzzle, but she said putting it together was the hardest part.
"I had spent all this time collecting documents, conducting interviews," she said. "And then there came that moment of, 'OK, now I have to synthesize everything I just learned and write it in a way so that people will want to read it all the way to the end.'"
Eldeib said she hopes the story will start a conversation about the issues that come from minors receiving major sentences and ask themselves, "What does it mean for the system, for the youth, for the community at large when youth go straight from a juvenile correctional facility to adult prison?"
She said she knows the mission for the juvenile system in Illinois is to rehabilitate and release. The director of the juvenile-justice department there told Eldeib that it's considered a failure when youth in juvenile custody are sent to adult prison.
Eldeib recently wrote a story about the inadequacy of young people's legal representation and said more follow-ups may come.