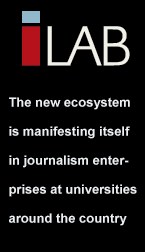 March 28, 2014
Access to government documents and data is essential to local investigative "street" reporting and the Freedom of Information Act (FOIA) is the most important tool to get them, say journalists in the D.C. community.
The Open Government Coalition hosted a FOIA panel last week as part of National Sunshine Week, an annual event focused on government transparency. Coalition members, journalists, community advocates and government workers traded stories and advice on navigating road blocks in their FOIA requests to unearth government information.
"Government is for the people and by the people, and I've felt this way since I was in my teens," said Marie Drissel, the driving force behind a campaign that helped repeal a D.C. gambling law. "Government must tell us what they're doing and why they're doing it."
The District passed a gambling law in 2010 that would have made the city the first in the country to legalize Internet gambling. Gamers would have been able to log onto their computers, enter their payment information and place bets on games like Texas Hold 'em poker and fantasy sports. Through its "iGaming," the District planned to set up 20 to 30 online gambling centers in bars, clubs, hotels and other spots around the city, according to The Washington Post.
The law pushed by then council member Michael A. Brown passed the D.C. Council without public comment or committee review, which was not standard practice, and the mayor at the time, Adrian Fenty was not consulted. Council member Jack Evans said in hearings that members did not realize they were voting on "iGaming" when they passed the supplemental budget that included the program.
Few people paid attention to this law until Drissel and local reporters began investigating its creation, she said.
Drissel started by filing FOIA requests. The first was to the Small and Local Businesses Development Department. Through those documents, she found that one of the partners in the $38 million contract was a man who listed his mother's Southeast address as his office.
"Wouldn't have even passed IRS as far as being an office," she said.
The next FOIA requests went to the D.C. Council and the District's chief financial officer. She used that information to compile lists of the gambling venues and Internet gambling companies planning to be based in the District. She also received copies of internal emails from the Natwar M. Ghandi, who was the chief financial officer, concerning gambling.
The law was repealed in 2012 before it could be fully implemented, and a federal investigation of the D.C. Lottery and local politicians resulted in resignations and charges.
Drissel said her campaign against District gambling would not have been possible without FOIA.
"And my conclusion is that without effective implementation of the FOIA act of the District of Columbia, none of us would recognize D.C.," she said.
FOIA requests not only influenced gambling laws but they also changed the landscape of District housing and property taxes, according to Pulitzer Prize-winning Washington Post reporter Debbie Cenziper.
She wrote a story called "Forced Out" that revealed landlords were forcing tenants out of rent-controlled apartments by shutting off heat and electricity and ignoring sanitation issues. Her story led to new laws protecting tenants.
However, her next story would prove to be more difficult in terms of FOIA requests.
"It wasn't until I started looking into [the] tax office that I hit a lot of road blocks," she said.
She found out that the city's tax appraiser was cutting deals with developers and taking hundreds of thousands of dollars off of their tax bills. She wanted to find out what else could be happening in the tax office so she made requests for all of the internal audits.
"I realized they had never been made public," she said. "No one in the City Council had them, and they were just sitting on shelves in the tax office."
Soon after her story was published, legislation passed requiring audit documents to be made public.
"We file a lot of FOIAs, and we get a lot of push back from the city," she said.
Cenziper said after the panel discussion that the best way to have a FOIA request approved is to find the gatekeeper of the data or documents. Ask questions about the field names in Excel files or the exact title of the type of report that will have the information needed.
"You put those specific names in your FOIA and it's much harder to deny," she said.
Drissel said another obstacle for those requesting documents is money. She stressed that the cost of making FOIA requests can stop people from pursuing them, and that advocates should push for free documents.
She recommended Traci Hughes, director of the Office of Open Government, an independent office within the D.C. Board of Ethics and Accountability, for help with requests. Drissel used Hughes as an advocate for a recent request to the CFO's office.
"She taught me that I could have — no, she taught them — that they should at least negotiate a different price with me. That's the first time that's ever been offered in all the years I've been doing FOIAs out of the CFO's office," she said.
Hughes, whose office has been open for less than a year, said after the program at the press club that she hopes to make the FOIA process easier.
"I knew we had some issues with FOIA, but particularly with one of the panelists, I didn't know she has as many issues as she does," she said. "I'm glad to know that she and I have already connected, and she knows that I'm there as a resource."
Thomas Susman, the founding president of the Open Government Coalition, said that FOIA even helped him correct an erroneously written parking ticket.
"Some time passed before I got a letter back in the mail with a refund of my payment, the report and an apology because the report said — next to the meter number — that they inspected it and it said 'not working,'" he said. " I saved 50 bucks because of the D.C. Freedom of Information Act."