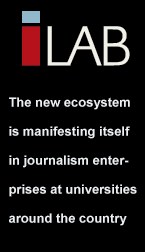 Oct. 29, 2010
There has been an excellent public conversation this past year about the ethical dilemmas and best practices of nonprofit news publishers at the University of Wisconsin-Madison, spearheaded by Stephen Ward, the founding director of the Center for Journalism Ethics there, working with Brant Houston, the Knight Chair in Investigative & Enterprise Reporting, University of Illinois, and Andy Hall, the executive director of the Wisconsin Center for Investigative Journalism. A roundtable discussion, "Ethics for the New Investigative Newsroom," was held on Jan. 29, 2010, and months later, a report was published.

The report explores ethical principles and best practices and "warns that newsrooms must protect the integrity of their journalism. Only transparency about sponsorship, clear rules on conflicts of interest and frank communication with supporters will maintain public confidence in these new experiments in journalism."

And on April 30, these issues were further explored at a public, live-streamed, University of Wisconsin-Madison conference entitled, "New Journalism – New Ethics?"

I participated as a speaker in both discussions.

Last month, the Institute for Interactive Journalism here at the American University School of Communication, better known as J-Lab, published an online tutorial on starting a nonprofit news site. It was reported and written by Houston and Hall and can be found here.

And finally, earlier this week, the Voice of San Diego, founded in 2005, unveiled a new website it calls "The Hub." "A resource center for community-based and nonprofit journalism," it is intended "to bring together myriad resources to help communities create their own successful nonprofit news organizations. We are most interested in helping local investigative and public service journalism thrive in the new media landscape."