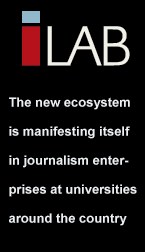 March 29, 2010
It might just be the best solution to the problems facing journalism that no one has tried.
It's the low-profit limited liability company, or L3C, and it merges the worlds of for-profit and non-profit, ostensibly creating a business with a conscience.
In exchange for receiving low-interest or no-interest funding from private foundations – in the form of program-related investments (PRIs) – an L3C operates as a socially responsible enterprise with profit-earnings as an after-thought.
PRIs offer funds for organizations that cannot find it in the private investment market.
Two questions come immediately to mind. Can a successful news organization exist with a conscience and without focusing on profits?
Since being introduced in 2005, L3Cs have appeared in Vermont and Michigan, as well as other states that have approved the business structure. However, there is not a single L3C in the journalism industry.
Reportedly, the The Chicago News Cooperative – co-founded by former Chicago Tribune editor, Jim O'Shea – is considering becoming an L3C in later this year when Illinois' law goes into effect.
But, Shea said in a telephone interview that the Cooperative's board of directors has not made a decision on what legal entity to become.
"We began exploring, 'Would (the L3C) be an easier vehicle to allow us to raise money as a journalism organization"?'" he said. "We haven't said 'Ok, that's what we're going to do.' It's an option we're considering."
At a conference in November organized by Yale's Knight Law and Media Program and the Yale Information Society Project, academics and journalists gathered to discuss the changing ecology of the news media. Panelists during the two-day conference spoke on the new models emerging and which seem the most viable. Among the proposals were the L3C model and the increasing number of foundation-funded journalism groups.
Dozens of independent news organizations have formed in the past several years under the non-profit umbrella. Not one has taken on the business model some are calling journalism's savior.
The problem is that no one is willing to be the first one, said Jay Hamilton, director of the DeWitt Center at Duke University.
Some still have policy questions on whether foundations can make investments into an L3C and still meet tax guidelines, Hamilton said. To date, the IRS has not confirmed it would accept a newspaper as a charitable or educational entity.
"Nobody wants to bear the significant costs of solving this particular question," he said.
Journalism and the L3C
The L3C is the ideal model for the struggling journalism industry, says Robert Lang, the man who designed the business structure five years ago. And, since news organizations have a civic purpose, he sees no problem in categorizing them as L3Cs.
Lang said that as plummeting print advertising revenue bankrupts more traditional news organizations, foundation funding would allow new journalism ventures to enter the world of capital markets with more secure footing.
Lang is confident the L3C will help journalism and has included newspapers among the industries he lists in proposed federal legislation.
Lang, CEO of the Mary Elizabeth and Gordon B. Mannweiler Foundation, and Washington, D.C.-based tax attorney, Elizabeth Carrott Minnigh of Buchanan Ingersoll & Rooney wrote the Philanthropic Facilitation Act of 2010," intended to clarify and simplify the use of PRIs" They are currently looking for Congressional sponsors.
Lang's proposed legislation would be the second piece of major legislation aimed at helping the struggling newspaper industry. Last March, Sen. Ben Cardin introduced Senate Bill 673, "The Newspaper Revitalization Act of 2009." And, six months later, Rep. Carolyn Maloney introduced the companion bill, HR 3602. Both bills, which would allow certain newspapers to obtain non-profit status, are sitting in committees.
Sue Walitsky, a spokeswoman for Cardin, said the Senator senator continues to be a part of the discussion on alternative business models for journalism, but his name is only attached to SB673.
Instead of seeing the answer in the non-profit model, Lang said journalists need to look to the hybrid non-profit/for-profit model.
"Personally, I have a problem with non-profit journalism because the incentive is not necessarily there to keep changing and staying competitive," he said.
While no one can say with certainty whether the L3C is the answer to journalism's prayers, some think it comes pretty close.
In a report out of the 2009 Duke Nonprofit Media Conference held in May, Hamilton writes about a variety of nonprofit media alternatives, including the L3C.
"The L3C organizational structure appears tailor-made for a news organization," he writes. "The L3C offers many advantages. The mixed set of investor expectations matches the mixed types of returns that newspapers offer."
What is the L3C?
An L3C combines the financial advantages of a limited liability company (or LLC) and the social and tax advantages of a non-profit organization. Under the LLC structure, members are safe from having personal assets to pay off the company's debts and legal claims, while non-profits enjoy tax exempt status from federal and state income tax. By combining those two organizations, the L3C is run like a regular business, but the focus is on social responsibility not on profit.
Like an LLC, the L3C is formed by members and allows for flexible management and income distribution. It's created to further a charitable or educational purpose and should not have political or legislative ties.
Lang created the L3C specifically to bridge the gap between non-profit and for-profit investing. The legislation was written to make it easier for private foundations to endow socially beneficial businesses that may or may not make a profit, while still meeting IRS guidelines on Program Related Investments (PRIs).
As the CEO of a small family foundation, Lang said he tried to use PRIs.
"Trying to do this left me with a feeling of herding cats, and I accomplished nothing," he said. "And, I thought, 'There's got to be a better way.'"
After setting up the L3C, Lang founded L3C Advisers and a Web site coalition called Americans for Community Development, to educate the general public about the L3C and PRIs.
He sees the L3C as the ideal mix of private foundation support and commercial investment toward a greater purpose. The business structure minimizes risks for investors, encourages economic development investment and social change, he said.
It also opens another avenue into the world of foundation giving. Since there are a limited number of grants and scholarships available, and the need for charitable endowments is increasing, L3Cs could loosen millions in philanthropic dollars, via PRIs.
Andrew Schwartzman, CEO of the Washington, D.C.-based Media Access Project, spoke at a two-day FTC workshop in December that focused on the future of journalism. He called the L3C model "well suited to facilitate philanthropic and altruistic developments in struggling newspapers, TV stations, and new media ventures."
Establishing an L3C news organization more strongly ties the business of journalism with its core mission of community service and social responsibility.
Who's doing it?
Realigning journalism with its core principles is partly why O'Shea launched the Chicago News Cooperative in 2009. The group produces Chicago-centered public-interest journalism twice a week for the New York Times.
With help from a $500,000 grant from the John D. and Catherine T. MacArthur Foundation paying for staff, equipment and office space, O'Shea, as editor, is overseeing the project pro bono for the first year.
Deciding where to go from its initial start-up funding is the next step.
Even though it was widely reported that the Chicago News Cooperative would be the first L3C news organization, that decision has not been made, O'Shea said.
The Cooperative currently operates as a project of WTTW Channel 11, Chicago's public television station, and a non-profit organization. An attorney for the group is looking into the pros and cons of becoming an L3C versus a non-profit.
O'Shea said one of his reporters, David Griesing, came across the L3C concept and suggested it as a model to consider in their formative stages.
"Some foundations and individuals are so uncertain about (the L3C) because usually these sorts of things are created and then the IRS passes its muster on whether or not they're appropriate for certain uses. And I don't know if that's been done," O'Shea said.
With a target of $8 million to $10 million in non-profit funding, O'Shea is interested in finding a business model that sustains the new project. He's just not sure the answer is the L3C.
"If we would go ahead and become an L3C, would we impede our ability to raise funds from Foundations that prefer to deal with a 501(c) 3," O'Shea said.
Why haven't more done it?
Making PRIs is less popular among foundations.
According to a study by nonprofit consulting group FSG Social Impact Advisors only 5 percent of all foundations in the country have ever made program-related investments.
Foundations are required each year to give away at least five percent of assets to socially responsible programs. Less than one percent of that giving is made through PRIs.
The Foundation Center, a national nonprofit service organization, shows that in 2008, the roughly 75,000 foundations in America handed out nearly $44.4 billion in grants and scholarships, and $315 million in PRIs.
Foundations often look at PRIs as unwieldy and expensive to oversee, because most obtain a private letter ruling from the IRS before making the investment.
"The people at the foundation want some security that they didn't make a bad investment," Hamilton said.
A private letter ruling is a written statement issued by the IRS that outlines the tax regulations regarding a particular transaction. They are given on a case by case basis. They can cost a taxpayer around $50,000 in legal fees and $8,700 in fees to the IRS, and take up to a year and a half to process.
Lang said the L3C is written to eliminate the need for a private letter ruling for PRIs. He and attorney, Owens, wrote the legislation to meet the government's PRI regulations.
"There is not now and never has been any requirement in either federal law or IRS regulation that specifies that a foundation must get the approval of the IRS in any way, shape, or form before making a PRI," Lang wrote in an article posted on his Web site.
Foundations simply must follow IRS guidelines on what represents a proper PRI. He calls the notion that a company must obtain a private letter ruling before making a PRI an urban myth.
The IRS "has long approved foundation investments in for-profit entities – including, importantly, LLCs – as program-related investments," Owens wrote in a letter to the IRS tax exempt division.
At a 2009 conference of the American Institute of Certified Public Accountants, a senior technical advisor in the IRS' tax exempt and government entities division spoke about unresolved tax issues associated with L3Cs.
"We do need some tax-law changes to make it work, in order to facilitate this and sell it," Schwartzman said. "But I do think it's an opportunity and something I want to continue to explore, precisely because it may give us an opportunity to find better ways to finance start-ups and maintain existing media entities."
Not only do PRIs offer socially responsible companies access to funding at great terms, they can be a boon to foundations. Foundations can recycle PRI payments by turning around and giving the money to another charitable group.
And, the companies that receive PRIs can leverage other capital and take on higher risks, and draw more traditional financial investors.
There is no database tracking the rate of repayment on PRIs. Some wonder if whether the PRI simply becomes a de facto grant.
In a 2007 paper, FSG Social Impact Advisors noted the David and Lucille Packard Foundation "is very clear about its expectations for PRI repayment and requires recipient organizations to acknowledge that it does not intent to simply turn an investment into a grant at a future date."
Hamilton added that PRIs don't have to become de facto grants for news organizations and that it's up to the foundation.
"If you thought the media was in a time of transition, you could see this as a way to invest and then when it's no longer needed, get your money back," he said.