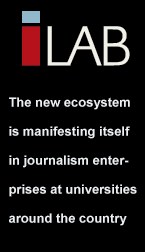 July 14, 2017
Charles Lewis speaks to students from more than 40 countries.
IRW Executive Editor Charles Lewis urged young journalists to get excited about the profession and to hold those in power accountable this month at a two-day, international conference in Edinburgh, Scotland.
The Future News Worldwide conference was created by the British Council — the United Kingdom's international organization for culture and education — and held July 6 and 7 at the Scottish Parliament.
Among the 17 speakers were prominent journalists such as Christina Lamb, chief foreign correspondent at The Sunday Times; Donald Martin, editor-in-chief at Newsquest Scotland; Anne McElvoy, senior editor at The Economist; Callum Baird, editor of The National; and Dima Khatib, managing director of AJ+ (an Al Jazeera online channel).
"I was inspired by this group," Lewis said, noting the students' diversity, enthusiasm and engagement.
About 2,000 young journalists applied to the program, and the top 100 applicants from 42 countries were chosen to attend, according to the council's press release.
Lewis, the last speaker at the conference, showed websites related to investigative reporting and focused his presentation on how and why he created the International Consortium of Investigative Journalists in 1997.
He also spoke about collaborative investigative journalism and the publication of the award-winning Panama Papers.
"You don't start with 400 people," Lewis said, explaining that reporters and organizations need training wheels and practice to get to projects as expansive as the Panama Papers did in revealing financial and legal records of secretive, offshort companies.
There is not a more exciting time to be in journalism because of the interconnectivity of the world, Lewis said of the profession. Technology will change, people will have new ideas, and reporters will always have to find the newest approach in the field.
There couldn't be a better way to end this unbelievable conference. Charles Lewis, founder of @ICIJorg, is the last #FNW2017 speaker. pic.twitter.com/B7q5XnBfBy

— Andrés Jiménez (@BrydenJimenez) July 7, 2017
His presentation left Lewis filled with hope about the future of journalism. Nearly 30 hands shot into the air when he asked for questions, he said, describing the group as exuberant and tough.
The students were "genuinely excited," and "full of idealism" during the conference, he said, which left him with a heartwarming impression about the future of journalism.
Lewis reflected on his role at the conference as a "cheerleader for investigative reporting."
Journalists have played a seminal role in the most important moments in history, he said, and students should be excited that they have chosen a profession that can change history.
The most important journalism, he said, is "what we don't know and they don't want us to know."