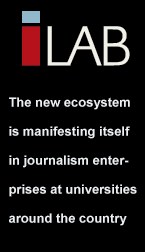 Nov. 23, 2010
Along with studying the new journalism ecosystem in the U.S., the Investigative Reporting Workshop itself apparently has become the subject of some international fascination.

Last year, we were approached by Toshihiro Okuyama, a veteran, respected, investigative reporter for The Asahi Shimbun, the largest newspaper in Japan. He asked if he could be a scholar-in-residence inside the Workshop. We were delighted to oblige, and he was with us in our offices for six months. On the eve of President Barack Obama's first trip to Japan, Toshi did a compelling story for his newspaper and the Workshop, based upon archival material from former President Gerald Ford's presidential library ("Documents show President Ford urged to visit Hiroshima").
Investigative Reporting Workshop photo
Toshi Okuyama joined Chuck Lewis for a six-month, in-residence program at the Workshop.
Because of our conversations and his interactions with his colleagues back in Tokyo, particularly with Professor Shiro Segawa of the Graduate School of Journalism at Waseda University, in December 2009 I was invited to speak there about "A New Way of Journalism" and also at the Japan National Press Club (before an estimated 100 reporters and editors, consecutive translation), available on YouTube. There were major news stories in Asahi Shimbun and Mainichi Shimbun newspapers at the time, and the lecture was reprinted in the Japanese quarterly magazine General Journalism Review in March 2010.

A Waseda University graduate student I met during my visit there, Scilla Alecci – a native of Italy, who speaks excellent Japanese and English – is now, not coincidentally, here in Washington, just finishing up an internship at the Center for Public Integrity's International Consortium of Investigative Journalists. Scilla did some reporting, research and fact-checking on the Center's spectacular global story about the illicit market for bluefin tuna, written by Marina Walker Guevara, my former student Kate Willson and Marcos Garcia Rey, an exposé that has been referenced by scores of news organizations throughout the world.
Yoi Tateiwa, a correspondent for NHK, worked in both Iraq and Iran.
Just weeks after returning from Tokyo earlier this year, I was contacted by Yoichira Tateiwa, an on-air correspondent for NHK (the PBS of Japan) for the past 19 years, who has specialized in investigative reporting in Japan and around the world. In 1997, he became NHK's Tehran bureau chief, and the following year, for his reporting, he was kicked out of Iran. Or as Yoi more diplomatically explained it to me, "I was kindly asked to leave Iran as persona-non-grata." That is my kind of reporter — and it was all I needed to hear! Of course, it didn't hurt that in 2004, he reported from Iraq for a year.

Yoi asked if he could be a "visiting fellow" the same as Toshi Okuyama of Asahi Shimbun had been at the Workshop, we said yes. NHK is sponsoring his time and research here, which will end in June 2011. His reason for wanting to come to the Investigative Reporting Workshop is quite inspiring. Given the economic, journalistic and other turmoil in both Japan and here, he wrote to me in March that "I would like to use this precious time to reconsider the role of journalism in a democratic society."

Relating to that, in his research application to NHK, he wrote (this is the English translation): "The purpose of my research in the United States is to foresee the future image of journalism."

His first two months here, he has interviewed every staff member of the Workshop, and even the Dean of the American University School of Communication, Larry Kirkman. He has come to most of my In-Depth Journalism classes. He is even contacting our donors. I can almost see his wheels turning, as he contemplates what others in Japan — including Toshi Okuyama and Professor Segawa — are: Can the nonprofit journalism model or some variation of it work in Japan? In his research application, Yoi wrote that after returning to Japan next summer, "I would like to propose a new system to conduct investigative reporting based on what I learn from the research."

Yoi, Toshi and Professor Segawa and other Japanese journalists with whom I've spoken here and in Japan know that I will gladly help them in any way I can.
Meanwhile, the Japanese fascination with the Investigative Reporting Workshop, launched in early 2008, and the new, emerging journalism ecosystem here continues. Last week, Erika Toh of Asahi Shimbun wrote two stories about the Workshop and its evangelical efforts to expand the public space for investigative reporting. (Here they are in Japanese: Leaving CBS, Dedicated to Investigative Reporting, Nurturing Next Investigative Journalists, Building the network
Australia's interests grow
Also last week, my old friend, Bill Birnbauer, came to visit us at the Workshop from Melbourne, Australia. I first met Bill in 1998; he is one of the original members of the Center for Public Integrity's International Consortium of Investigative Journalists. These days Bill is senior lecturer in journalism at Monash University in Melbourne. Before joining Monash in December 2008, he was an investigative reporter at The Sunday Age and The Age newspaper for 30 years. Bill has written two books and has produced documentaries for ABC and SBS television in Australia. In 1993, he was a Knight Journalism Fellow at Stanford University.

Bill also was one of the first reporters to use Australia's Freedom of Information laws, unearthing documents on potential nuclear power sites, and later, obtaining mortality rates for state hospitals. He has won numerous awards, including a Melbourne Press Club Quill award, and he shared a Walkley Award, Australia's top journalism prize, for a narrative on the Port Arthur massacre, in which a gunman killed 35 people. He has won five legal reporting awards for his stories on Big Tobacco's international strategy to destroy damaging internal documents to keep them out of litigants' hands. He has participated in two ICIJ projects: the first exposing links between organized crime syndicates and Big Tobacco, and the second on The Water Barons, an award-winning project on the privatization of water.

He is currently doing research in the United States about nonprofit investigative journalism, as he pursues a master's degree. But like Yoi, there are some other fires quietly burning.

At the moment, there are two nonprofits in Australia, the Centre for Independent Journalism (ACIJ) at the University of Technology, Sydney, and the Public Interest Journalism Foundation at Swinburne University in Melbourne.

The ACIJ was formed in 1990 and is run by Professor Wendy Bacon, a former investigative journalist and now university professor. The center undertakes investigative stories, usually building on student work and runs the annual George Munster journalism award. It is funded by the short courses it runs. It hosts conferences and conducts research into journalistic practice. For instance, it did a series about the amount of public relations–initiated stories in the mainstream media. (See the Spinning the media series).

The Public Interest Journalism Foundation is run by Margaret Simons, who is visiting the Workshop in January, and it plans to establish an investigative resource center. It is fairly new — formed in 2009 — and to date has established YouCommNews modeled on the San Francisco-based, community funding of journalism Spot.Us, and recently organized the "New News" conference at the Melbourne Press Club. That confab featured Jan Schaffer, the founder and executive director of the Institute for Interactive Journalism, better known as J-Lab, housed here at the American University School of Communication. Bill also spoke eloquently there about nonprofit journalism, and here is some of what he said.
Bill has been inspired by the work of the U.S. nonprofit journalism centers, and he is keen to establish one in Australia. He is investigating models that would be sustainable in a different philanthropic milieu than the United States, one without tax deductibility and wealthy foundations. He has come to this for the obvious reasons — "Shrinking newsrooms and the constant pressure on staff to churn out stories without context or meaning do the audience no favors," he said. "Then there is media concentration, with two companies, Murdoch and Fairfax, owning all the newspapers, and, of course, a wonderful ability for new players to display documents, videos and stories cheaply on the Internet. So I'm basically here to observe nonprofit models, talk to editors and reporters and figure what is transferable across the Pacific."
Last week at the Workshop, I talked with two more journalists from Japan, Toshihisa Kajihara of Sankei Shimbun, based in Osaka, and Toru Hata of Chunichi Shimbun. They requested a meeting.

And so it goes with this cross-border journalistic pollination. I have been speaking around the world about nonprofit journalism since 1992, but it has never been as captivating as it is now.