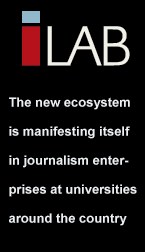 March 30, 2010
The Investigative Reporting Workshop Investigative Laboratory or "iLab" was created to conduct serious research about investigative journalism, past, present and future. Our goal is very simple: in every possible way, to enlarge the public space for this important work, holding those in power more accountable in our society.
We are exploring multiple areas of interest simultaneously.
For example, for the past few years, I have been researching and writing extensively about the remarkable emergence of nonprofit investigative and public service news organizations. When I began the Center for Public Integrity from my house in 1989, it was only the second nonprofit, investigative reporting center in the world. Today there are literally dozens of them, most of them begun in just the past five years from the diaspora of immensely talented journalists suddenly without a commercial newsroom.
The New Journalism Ecosystem
Here, from the Investigative Reporting Workshop iLab, in the very near future, Philippa Levenberg and I will systematically begin to track "The New Journalism Ecosystem" in an authoritative roster of continually updated and expanding profiles of the most credible nonprofit online publishers in the United States and around the world. We will introduce various criteria – transparency, the precise extent of editorial oversight, standards and practices, adherence to traditional newsgathering techniques, professional peer recognition in the form of awards, etc. – by which to make such an assessment. At this time, no such information and analysis currently exists.
The modus operandi and coverage priorities of nonprofit organizations vary – by geographic area or audience, by local, state or national focus, by approach (24/7 daily community coverage versus the specialized I-team style) or by niche subject. The legal structures and financial operations also can differ – some are 501c3, IRS tax exempt, stand alone corporations, some are university-based or otherwise a project within a larger institution which serves as a IRS tax exempt fiscal agent. And the sources of revenue also vary, between the percentages of earned and foundation, individual, corporate or other donated income. This level of analysis and thought, previously not specifically applied to the subject of investigative journalism, is also shining a new light on the epidemiology of credible investigative information that has been cited and used routinely for decades by the major commercial media in their news stories – material generated by respected investigative research organizations. All of these groups have been publishing data and documents but also narrative online since the mid-1990s, and as such should be regarded now also as investigative news publishers, which they have generally not been inside traditional journalism circles.
The emergence (including the belated acknowledgement) of numerous nonprofit online publishers won't sufficiently fill the large void that exists today, of course, but it will help. If present trends continue, it appears that the most ambitious reporting projects will increasingly emanate from the public realm, not from private, commercial outlets. And the new spirit of humility and collaboration is fascinating but also entirely understandable. The commercial, for profit companies have smaller newsgathering capacities and less money, and are desperately seeking serious news content at little or no cost. The investigative nonprofit organizations have plenty of high quality content but are desperately seeking eyeballs – online visitors, page views, and traffic – to their online news sites. The two groups help and need each other; it is a marriage of convenience.
Of course, the commercial media realm itself is also radically transforming in many ways. At the iLab, we are particularly interested in a very basic question of public accountability: Regarding both the legacy media and the "new media" companies in America today, precisely who owns them and thus controls what information we receive as a people? We will present the answers to these vital questions by mid-2011.
CONNECTED: The Media and Broadband Project
Veteran journalist John Dunbar, my award-winning colleague from the Center for Public Integrity and one of the nation's most respected reporters tracking the telecommunications and media industries, joined the Investigative Reporting Workshop in 2009 and has now publicly launched CONNECTED: The Media and Broadband Project.
On March 12, working closely with Mia Steinle, his first report, "Industry lobbying keeps public in the dark about broadband," revealed that the largest broadband and wireless companies have spent $873 million in lobbying since 1999 to, among other things, stifle federal government efforts to collect and make public data that could help the nation determine where there is high-speed Internet service in the United States and where there is not.
In June, 2010, Dunbar, Steinle and the Workshop's director of computer assisted reporting, Jacob Fenton, will release the project's national investigative report and interactive map on the digital radio industry, with other industries on deck. In early 2011, Dunbar and his growing team will create the first-ever media and broadband map of an American city, one of the largest metropolitan areas (15 counties in four states), complete with a media concentration index and a review of access, speed and cost of broadband services.
Ultimately, with sufficient funding, by mid-2011, the Workshop will be able to provide broadband ownership information by geographic locale. If we combine that with the latest "Media Tracker" company information, we will be able to present the public with a complete ownership and control picture of legacy media and new media companies for the entire nation. And this will only become more important as the big network providers get further into the content business. Cablevision, in the New York area, is already there, with ownership of cable TV, broadband, Long Island's Newsday newspaper, a wireless network and several cable television networks.
For these and other reasons, we believe "CONNECTED: The Media and Broadband Project" will soon become the definitive word on media ownership, regulation and accountability in the United States today. As essential as that knowledge is and should be for any open, informed, democratic society, there is also a vital need to find new ways to create and disseminate high quality investigative reporting which exposes the uses and abuses of power in America and the world today.
Incubating New Economic Models
To date, the Workshop has already helped to incubate one new nonprofit investigative reporting publication, which since has received its 501 (c)(3) status and $250,000 in first-year operating revenue from a foundation. Founded and led by former Los Angeles Times reporter Myron Levin, the new venture is called "FairWarning—News of Safety, Health and Corporate Conduct.'' It officially launched in March 2010, and will combine original investigations with breaking news and information on hazardous products, injury prevention and significant developments in regulation, research and civil litigation. It will also feature an online forum for readers to vent, ask questions or debate the issues. Its mission will be to arm consumers and workers with valuable health and safety information, while spotlighting dubious business practices and lax oversight by government regulators. In the process, FairWarning will aim to become a go-to, must-read source for citizens, advocacy groups, regulators and lawyers on all sides of these important issues, and for major news organizations no longer able to cover this specialized subject matter. I am a proud member of FairWarning's Board of Directors.
I also serve on a dozen other nonprofit Boards – the Center for Public Integrity, the Fund for Investigative Journalism, the Investigative News Network, the News Literacy Project, the Watchdog Institute in San Diego and the Wisconsin Center for Investigative Journalism in Madison – and Advisory Boards and advise numerous others, as part of the Workshop's iLab mission to enlarge the public space for investigative reporting by helping to create more such news organizations.
In addition, below are our current incubations and future-minded research efforts:
The Investigative News Network
On July 1, 2009, the leaders of 20 nonprofit news organizations meeting at the Pocantico Conference Center outside New York City issued the "Pocantico Declaration: Creating a Nonprofit Investigative News Network." Its mission: administrative, editorial and financial collaboration, and more broadly, "to foster the highest quality investigative journalism, and to hold those in power accountable, at the local, national and international levels." I represented the Workshop there, was one of the four conference organizers, the original draftsman of the Declaration and at the historic conference formally proposed the Network concept and name. A member of the Network's governing steering committee, via the Workshop iLab, I helped the Network become incorporated in the District of Columbia and for months have worked with a D.C. law firm to develop and submit the Network's 501(c)(3) application to the Internal Revenue Service for tax exempt status. Separately, I also serve on the Network search committee, interviewing prospective candidates to become the Investigative News Network's first CEO.
This is significant because the number of Network organizational members will likely reach 50-100 by the end of 2010, including international nonprofit news publishers. Never before has anyone attempted to organize the best investigative reporting output and energies of several respected news organizations and their journalists in the U.S. and around the world.
World Investigative Reporting Enterprises (WIRE)
In late 2008, I was asked by Mike Hoyt, the editor of the Columbia Journalism Review (CJR), to write a first-person essay about the future of investigative journalism in five years. In it ("The Social Network Solution" March/April 2009), I unveiled for the first time a new global investigative journalism economic model I had been discreetly developing for the past four years. Back in 1997, I had begun the Center for Public Integrity's International Consortium of Investigative Journalists, the world's first – and still the only – working network of premier reporters developing investigative content across borders, 100 people in 50 countries. But in the ensuing years, I have noticed some intriguing new circumstances, in terms of news consumption patterns which could present the world of investigative reporting with some thrilling new economic opportunities.
Of course, with the proliferation of online news sites and increasing broadband access, the newest generations of young adult citizens are increasingly getting their information digitally, via mobile phones and otherwise. They do not generally consume news by reading a newspaper from the front page back, or watch a network newscast from start to finish. It is all digital demand now, based on personal interest, the information at their fingertips. And so much of people's interests are increasingly manifested by a yearning for human connectivity via various types of social networks.
Many of the largest, most active social networks today are based upon political or social concerns on such subjects as the environment, health and safety, human rights, national security, government or corporate accountability, etc. If you analyze investigative reporting conference programs and awards, it so happens that those same subjects are specialized areas of expertise for investigative reporters in the U.S. and around the world. Each of those subject areas is of interest to vast, worldwide social networks of reasonably well-educated and well-informed people – cumulatively tens of millions of people. None of those communities today has access to high quality anthologized, recently published information on those subjects. What if these communities became specialized markets for the best, recent and commissioned new work of the premier investigative reporters in the world, online searchable by subject or person – as well as pathways to new information resources, crowd-sourced experts, citizen muckrakers?
This has never been done before, but I believe it is not only possible, it is inevitable, as part of the next logical iteration of the Web, social networks, increasing broadband access and global news consumption patterns.
Inside the iLab, with the research and reporting assistance of Meera Pal, I am presently developing a business plan for World Investigative Reporting Enterprises (WIRE), a for-profit or hybrid for-profit/nonprofit (L3C) corporation which would construct a global, online social utility platform in which the best investigative journalists in the world could publish their original, multimedia work, commissioned by, reported, written, edited and published or produced for WIRE. And this first global muckraking portal will also regularly identify the best investigative journalism being published around the world, organized and made digitally accessible and searchable regardless of language or subject.
This venture will be backed by socially committed investors, with small ownership shares initially given at the onset to two pioneering nonprofit forces, the Investigative Reporting Workshop and the Center for Public Integrity. The goal initially is to enlist and work closely with 150 premier investigative journalists from seventy-five countries on six continents, each paid a respectable, annual contributing writers fee plus a potential revenue share of annual profits. With hundreds of news media organization partnerships around the world – where else will news organizations today go to get a regular supply of high quality, international investigative journalism – WIRE will utilize the emerging, syndication model in which content is exchanged for online page views which WIRE then uses to sell advertising, with a share of that advertising income paid back to the partner site. Revenue will thus be derived from advertising and reader donations.
Our very ambitious goal is to develop a detailed business plan, to find initial funding and spin WIRE out of the Workshop iLab by the end of 2010. I believe there are socially-minded investors or donors or both who are deeply worried about the profound, unprecedented public policy challenges facing governments and humankind itself in the 21st century, who recognize the great public need today for more political and corporate accountability. In this warp speed, easily manipulated information age, we need, as contemporaneously as possible, what Carl Bernstein has called "the best obtainable version of the truth." Our collective future depends on exposing the abuses of power which distort our national and international political decision-making processes. That simply cannot occur without high quality, tough but fair, independent investigative reporting – and we must find ways to do it more creatively, more visually, more accessibly, more feasibly financially, and of course, in terms of sheer volume, popular impact and eclectic subject range, more robustly.
These important issues are actually not all we are exploring inside the Investigative Reporting Workshop iLab. But you get the idea.