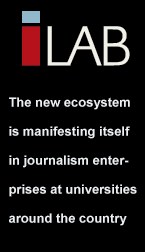 March 18, 2013
Journalism in Hong Kong is changing. The former British territory is undergoing a slow cultural reunification with mainland China, and as a result, the dynamics of reporting are shifting.
Students Karen Chan, Wendy Chan, Edith Leung, Phoebe Chau, Jennifer Tang and Ryan Fung of Hong Kong Shue Yan University joined graduate journalism students at American University to discuss these changes and what it means for the future of journalism on the island.
From left, Ryan Fung, Karen Chan and Phoebe Chau join Janay Christian, right, during her graduate journalism class to compare press freedoms.
Following its conveyance to Chinese sovereignty in 1997, the slow integration of Hong Kong into a traditional Chinese cultural and political climate has exempted many Hong Kong reporters from the strict regulations of the mainland. The island maintains a high degree of autonomy but censorship is increasing.
Hong Kong today still enjoys a relatively free press but as mainland policy becomes the norm, reporters have engaged in self-censorship. Criticism of government by Hong Kong citizens is less frequent in the media than formal public protests. Increased pressure from newspaper editors and owners means reporters are finding themselves more restricted. During the class discussion, Karen Chan explained the power of state-controlled media and limited access to information.
"There isn't 'public information' in a sense. We have to rely on what the government allows us to know and report," she said. "You have to be careful when researching because the government will block you."
Throughout the three-hour discussion recently with the Global Investigative Journalism class, taught by the Workshop's Executive Editor, Chuck Lewis, students developed a better sense of the obstacles journalists face around the world. But Lynh Bui, a master's student in the journalism and public affairs program at American, was most impressed by the students' commitment to in-depth reporting despite a lack of press freedom.
"It was empowering to remember that the desire to hold officials accountable and illuminate the public is in the DNA of all journalists, regardless of what language they speak and where they report," she said.
Unlike in the United States, Chinese journalists must be licensed. This practice allows for strict monitoring of stories reported and sanctioning for content that goes against the national interests. Violators are often reprimanded by suspension or their licenses are revoked. In extreme cases, journalists can face arrest for
content that is deemed offensive or anti-government.
Students in the Global Investigative Journalism class at American University are joined by visiting journalism students from Hong Kong Shue Yan University.
Additionally, the students detailed organized propaganda efforts and government attempts to limit editorials that address problems within the nation. The state-run media often reports distorted facts
that reflect Chinese economic and political interests more positively. Ryan Fung reflected on a common government practice of deliberately understating deaths tolls from accidents and natural disasters to avoid criticism of overpopulation and infrastructure.
In December 2011, two high-speed trains collided because of a signaling error. In order to avoid public scrutiny of the rail industry, the propaganda department of the Chinese Communist Party attempted to control death reports.
"Every time there is a crash or something happens, you always hear the number 35," Fung said. "It could be hundreds of people in a train that derails or a landslide, and somehow it is always only 35 people who die."
Chan, Chan, Leung, Fung, Tang and Chau all report for their student newspaper and have career aspirations that involve investigative reporting in Hong Kong. They acknowledge that their liberties as journalists may be declining but are committed to uncovering truth. For Amrita Khalid, who, like Bui, is in the graduate program at American, the most remarkable aspect of the discussion was recognizing this commonality that transcended culture and language.
"What struck me is that we all had the same drive, the same curiosity, the same distrust of those in power," she said. "I walked away thinking what a great time it was to be a young journalist."
For more information on news media in China, please visit:
Hong Kong and News Coverage Diversity
Hong Kong Media (*from the Hong Kong government)