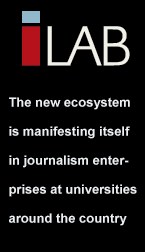 Oct. 20, 2011
The growing public need for investigative journalism could not have been poignant than last week in Kiev, Ukraine, at the Global Investigative Journalism Conference. Literally 500 reporters and editors from roughly 80 countries converged in Kiev just as former Prime Minister Yulia Tymoshenko, a heroine of the famous Orange Revolution in 2004, was convicted and sentenced to seven years in prison, barred from politics for a decade and fined a whopping $190 million.
Global conference participants began arriving Tuesday and Wednesday, Oct.11-12, and Tymoshenko was pronounced guilty by Kiev Judge Rodion Kireyev on the 11th. Hundreds of Tymoshenko supporters awaited the verdict outside the court just a few blocks from where our conference was about to begin Thursday morning at the President Hotel.
She was convicted of using "her powers for criminal ends" by pushing Ukraine's state energy firm Naftogaz into a contract with Russia's Gazprom – even though prosecutors were not required to show and did not show that Tymoshenko personally benefited financially from the government deal. Russian Prime Minister Vladimir Putin called the decision "dangerous and counter-productive," and in Washington the Obama White House questioned the "politically motivated prosecution."
Indeed, most Western observers and human rights groups saw the prosecution of Tymoshenko as a garishly blunt power move by Ukraine President Viktor Yanukovich, who eked out a narrow victory over her in the presidential race there last year. The New York Times opined that the prosecution "reeks of Soviet-style political revenge . . . despite his promises of reform, her politically motivated prosecution and conviction is clearly intended to silence Ms. Tymoshenko and warn off all other potential challengers."
Welcome to Ukraine, the sixth former Soviet republic I have visited or spoken in over the past two decades (others include Belarus, Kazakhstan, Kyrgyzstan, Russia, Uzbekistan). There is an entirely understandable, discernible grimness to a people who have endured almost incomprehensible human carnage in the past century – four to five million Ukrainians deliberately starved to death during the horrific "Great Famine" in 1932-33, inflicted upon them by Josef Stalin; 600,000 Ukrainian Jews systematically murdered by the Nazis and roughly five to seven million Ukrainians otherwise killed during World War II; no fewer than 10 million people left homeless after 700 cities and towns and 28,000 villages there were destroyed. (For more historical perspective, see http://www.britannica.com).
On Wednesday, a group of about 60 international journalists were taken on an all-day tour of Chernobyl, site of the world's worst nuclear power accident, a public health disaster of massive proportion still being gauged a quarter century later, a political debacle in which USSR President Mikhail Gorbachev waited almost three weeks to announce it to the public on television. He acknowledged 20 years later that, "I confess that we were afraid of panic - you can imagine for yourselves the consequences of a terrible panic in a town of several million inhabitants. I admit that it was a grave mistake." I had very much wanted to go on that sightseeing tour – led by respected Ukraine journalist and conference co-organizer Oleg Khomenok, whom I've known for years -- not-so-far from Kiev, but I teach on Monday nights and could not make it to Ukraine in time, arriving Wednesday afternoon.
While I had never before been to Ukraine, my former organization, the Center for Public Integrity and its International Consortium of Investigative Journalists had once directly investigated a previous thuggish president, Leonid Kuchma. Back in 2002, we reported that Kuchma had personally authorized the clandestine sale of $100 million worth of high-technology anti-aircraft radar systems to Iraq in July 2000, in direct violation of United Nations sanctions. We had obtained an audio tape of a conversation between Kuchma and Valeri Malev, then-director of the state-owned arms exporting company, Ukrspetseksport, in which Kuchma personally approved the transaction. The United States shortly thereafter suspended foreign aid to the country, there was a local criminal investigation of Kuchma in Kiev, and the UN began a formal investigation of Kuchma and Ukraine.
Of course, Kuchma is more notoriously known for allegedly ordering the murder of an inconvenient, online Ukraine journalist, respected investigative reporter and editor of Ukrainska Pravda, Georgy Gongadze, in 2000. The former president was indicted on "abuse of office" charges related to Gongadze's murder last March. In late August, former Gen. Aleksei Pukach testified in a secret trial (yes, they still have Soviet-style secret trials in Ukraine) that he strangled and decapitated Gongadze, and he named Kuchma and other top officials as responsible for plotting the ghoulish killing. According to Pukach, the direct order had been given by then-Interior Minister Yuri Kravchenko, who was found dead in his apartment in 2005, only hours before his scheduled questioning in the Gongadze case.
According to a report from the New York-based Committee to Protect Journalists (CPJ), "although Kravchenko suffered two gunshot wounds to the head, authorities said he had committed suicide." It may not surprise you to learn that 10 journalists have been killed in Ukraine since 1992, according to CPJ. The Paris-based Reporters Without Borders ranked Ukraine 131st out of 178 countries in its 2010 Press Freedom Index.
Welcome to Ukraine, one of the "very weakest" and most corrupt nations on earth, according to Global Integrity, an organization I co-founded in 2005 (after a six-year incubation inside the Center for Public Integrity) which assesses the precise extent of transparent and accountable government worldwide. The 2009 country report for Ukraine, involving a scorecard of more than 300 "Integrity Indicators," a Reporter's Notebook and a 10-year historical Corruption Timeline, can be accessed here. Berlin-based Transparency International similarly ranks Ukraine near the bottom of the world's countries in terms of corruption perceptions, giving the country a 2.4 out of 10 score (10 being "very clean," and 0 being "highly corrupt"), tied for 134th (out of 178) in the world, tied with Zimbabwe and Togo.
The conference program in Kiev was terrific, with such interesting keynote speakers as Annie Machon, a former British MI5 intelligence officer who chillingly revealed in her talk, "Using our intelligence – spies and the media," how easily malleable the British news media are, with draconian official secrets laws but also implanted spies working at leading newspapers; Hani Shukrallah, the famous managing editor of Al Ahram in Egypt, reflecting on "The Media during Uprisings" there; and Britain's Nick Davies, world renowned for his Wikileaks-Julian Assange reporting exploits and his brilliant 2006 book exposing the frailties of the British news media, Flat Earth News. But in Kiev, Nick told "the inside story of how the Guardian exposed the illegal methods used by the News of the World and shook the empire of Rupert Murdoch."
There were also two excellent and lively Wikileaks panels with multi-continent representation; you can access the full conference program here.
The conference itself was organized by Scoop, a Danish-funded network of investigative journalists in eastern and southeastern Europe, in close cooperation with Ukrainian centers for investigative reporting.
I spoke on two conference panels. One was about the future of investigative journalism, titled "What now?" It was moderated by conference organizer Henrik Kaufholz of Denmark, and on the panel with me were conference co-organizer Oleg Khomenok of Ukraine, Iegor Sobolev of Ukraine and my good friend Sheila Coronel, professor and director of the Stabile Center for Investigative Journalism at Columbia University and co-founder in 1990 of the Philippine Center for Investigative Journalism.
And the first morning of the conference, I moderated a panel about sports corruption, entitled, "Not Just Sport." Journalists on the panel were Jürgen Roth of Germany, Charles Rukuni of Zimbabwe now working from South Africa, and Mark Rachkevych of the impressive English language Kyiv Post in Ukraine.
Mark's comments were by far the most dramatic of the day and perhaps even the conference, at least for me. Kiev is hosting the European soccer championships in 2012, and the country is spending $16-18 billion it doesn't have to build numerous stadiums. An American living in Chicago who returned to his Ukrainian ancestral roots after it became independent in August 1991, he began investigating outrageously large cost overruns in the construction of these facilities, and – big surprise – the total lack of transparency and accountability about the actual costs. He told us that he has received three personal threats from officialdom in Ukraine, because of his inconvenient questions.
I pointed out that it is well understood by crime experts the world over that the construction industry is the most corrupt, and when you mix the largely unregulated billion-dollar soccer industry, the dirty and opaque construction industry, and the organized crime elements in a country as fragile as Ukraine, then what Mark found is unfortunately predictable. Over the years, I have met many international journalists who have been physically threatened, kidnapped or who have been later killed for their truth-telling. And in all candor, I am worried about Mark Rachkevych's safety and I have the utmost respect for his heroic reporting efforts and the spine of his editors and publisher there.
The London-based International News Safety Institute found in its important Killing the Messenger report (PDF) that in the decade between 1996 and 2006, 1,000 reporters were killed. Only one in four of this number died while covering wars – most were investigating corruption. And Ukraine was among the most dangerous places on earth to be an intrepid reporter.
Since 2001, about 3,500 reporters have attended seven global investigative journalism conferences on two continents – Copenhagen (2001), Copenhagen (2003), Amsterdam (2005), Toronto (2007), Lillehammer, Norway (2008), Geneva, Switzerland (2010) and Kiev (2011). Many of the conference participants are, like me, repeat offenders. This growing network of organizations and conferences was founded by Brant Houston, then executive director of Investigative Reporters and Editors in the U.S., and Nils Mulvad of Denmark, both friends of mine.
I have spoken at every conference I have attended, except for Geneva last year, which I missed. The Center for Public Integrity, including its International Consortium of Investigative Journalists, is an original organizational member of the conference steering committee, dating back to its first meeting in 2001, and now the Investigative Reporting Workshop has joined this governing body, as well. This palpable momentum with its complex logistics and expenses now requires more organization, and major moves were made in Kiev to form a governing Secretariat to more smoothly plan and oversee its steady evolution. And it was decided that the next global investigative journalism conference will be held in 2013 in Rio de Janeiro, Brazil, hosted by ABRAJI (site is in Portugese) , the Associação Brasileira de Jornalismo Investigativo, whose first international Congreso I was invited to address in 2006.
The idea of the growing global investigative reporting community converging with the dynamic ABRAJI reporting membership organization in the largest Latin America nation is very exciting.
Indeed, I wouldn't miss it for the world.