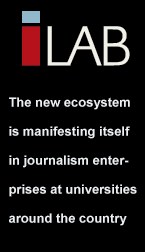 Sept. 19, 2013
Quality journalism will always be important, but funding it will become increasingly complicated, said media leaders on Sept. 15 at the Newseum in Washington.
Martin Baron, executive editor of The Washington Post, said that disruptive technology and social media cannot fulfill the function of good investigative journalism. It doesn't hold powerful people accountable, he said.
"Certainly someone who's involved in a train accident can tweet out there was a train accident and take a picture of the train accident," he said in a special edition of Inside Media, the Newseum's series of panel discussions. "But Twitter is not going to solve the problem of why did that train accident occur."
In a brief interview after the program, Baron added that funding investigative reporting remains an issue, and that nonprofit investigative units are not sustainable.
"I think there's got to be another model for it, and, fundamentally, I think it has to be a business model," he said. "And I think we see now with NPR that they're subject to economic forces like everybody else."
National Public Radio announced last week that it will reduce its staff by 10 percent. Congressional support for NPR's government funding declined after an NPR executive was recorded making negative remarks about conservative groups.
Newseum panelist Vivian Schiller, the chief digital officer at NBC News, is a former CEO of NPR. She resigned from the public radio organization after the scandal.
Schiller said that although NPR saw a decline in revenue recently, media organizations should learn from the nonprofit's diverse business model. NPR receives funding through corporate and individual grants, sponsorships, membership dues, the government and other sources.
"I work for NBC now...it's about advertising and it's about fees from your cable operators," she said. "What NPR has done or had to do over the course of its history is to rely not on one, two or three, but on many different revenue streams," she said.
Schiller predicted that many media organizations will adopt a similar business model to survive.
"The future is going to be about these multiple revenue-stream models, so I think there's a lesson there," she said.
Another panelist suggested that targeted investments with government funds could indirectly encourage new revenue streams. Former Federal Communications Commission Chairman Julius Genachowski said that government money should go toward three key web improvements. Broadband Internet access should be universal, the Internet should remain free and all government data should be accessible online, he said.
Former AOL Executive and majority owner of the Washington Capitals Ted Leonsis agreed that high-speed Internet access is crucial to opening growth opportunities. Increased access with unrestricted information would allow news organizations to reach a wider audience and give content a broader impact, and a wider audience would increase the opportunity to make money, Genachowski said.
Leonsis agreed and spoke directly to the studio audience of about 60 people.
"While we're re-imagining the delivery of the media and who is a journalist, I also think a re-imagining of the business model has to happen at the same time," he said.
Leonsis referenced blogs and websites he created for his hockey team as examples of new models of journalism. Because The Washington Post could only afford to send one reporter to cover the Capitals in the past, Leonsis started his own blog, he said. He gave sports fans the opportunity to write for his sites, which now have 5 million unique visitors every month, he said. The idea completely revitalized the team, he added.
"Since we've done that, we have had 200 sold-out games in a row, and we've become a bit of a phenomenon," he said. "Everyone is seeing that 'Hey, I can be in the media business just like The Washington Post.' "
"You're welcome, by the way," said Baron.
Despite his feelings about the newspaper's past coverage of his hockey team, Leonsis expects innovative ideas from the legacy newspaper's new owner, he said, referring to the Graham family's announcement in August that Amazon founder Jeff Bezos will buy the 136-year-old newspaper.
He doesn't think the problems facing the news business are difficult, but intelligent and creative people like Bezos have to figure out a new direction and seize new opportunities, he said.
"I don't think there's anything incredibly hard about any business," Leonsis said. "There's a magic, though, that makes something successful."
Baron is also optimistic about Bezos's direction for the newspaper. He added that his own loyalty to quality journalism does not make him a traditionalist or guardian of the past.
"Jeff Bezos will bring a lot of new ideas," he said. "New ideas that we need."
One new idea could be an increased focus on global reporting, since the Internet eliminates boundaries, said Genachowski.
"Why not be the go-to product for covering policy and politics in Washington and politics in every capital in every country and the world?" he asked Baron.
The panelists agreed that old boundaries for news consumption will erode at a faster pace, and every journalist and media organization will produce content for every media platform.
"The Washington Post and the Boston Globe, they're not in the newspaper business, they're in the news business," said Genachowski. "Vivian's not just in the broadcast news and cable news business; she's in the news business."
Every news organization will produce television content in the future, but the consumer probably won't watch it on a television, said Schiller. She said mobile devices and Internet videos will replace many television sets. "It's been rolled out in a very small way," she said. "It's not anywhere near full penetration."
The panelists agreed that the news industry will continue to change rapidly, but there will be new and exciting opportunities for journalism. Creative people must use technology to cover stories in new ways and find new ways to fund those stories, they said.
"I think we're at the beginning of what's going to be a really interesting time, and I bet you that if we sit back here in 10 years and look backwards we're going to say, 'Oh wow, that was obvious,' " said Genachowski.