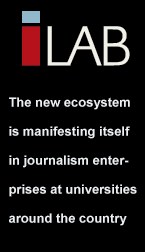 April 5, 2013
Conor Friedersdorf is onto something. The Atlantic writer recently published a thoughtful post about the worrisome state of local news in America, drawing attention to the troubling civic implications of the situation. He points out that curious citizens can still find excellent reporting of national and world affairs, but they increasingly cannot get good coverage of their own states and communities. Local journalism, he argues, has the most direct civic value, but, "This seems lost on the generation of political reporters who began their careers blogging about national politics, moved to Washington, D.C., and have only ever written for high-information news consumers intensely interested in national politics and policy."
The decline of local news is highly visible in the nation's capital, where the once-robust tradition of regional reporting — covering the federal government as it pertains to specific regions, states and communities — is now a shadow of its former self.
PolitiFact's Bill Adair and Sunlight's Kathy Kiely
Just 31 newspapers had a Washington bureau of their own in 2012, according to Hudson's Washington News Media Contacts Directory. Five years ago, "... of the nation's 1,400 newspapers, 32 — representing just 23 states — had their own bureaus in Washington … half the number of the mid-1980s, when 71 newspapers were representing 35 states," according to a 2009 Pew Research Center report, which also cited Hudson's.
Longtime Brookings Institution scholar Stephen Hess, the author most recently of "Whatever Happened to the Washington Reporters, 1978-2012," said this trend has developed gradually since he published his first book on the Washington press corps the early 1980s.
"When I started, regional reporting was very important," he said. "I've watched it, over time, fade away."
The impact of fewer bureaus, fewer regional journalists and fewer regional stories may be hard to measure.
But as Steven Waldman writes in his 2011 Federal Communications Commission report, "The Information Needs of Communities," the journalism job losses from 2007-2011 — 13,400 newspaper newsroom positions — "has created gaps in coverage that even the fast-growing digital world has yet to fill." The number of statehouse reporters also dropped around the country — by one-third from 2003-2008, according to the American Journalism Review — while state government spending increased significantly.
Several media outlets have chronicled the decline in coverage and its potential ramifications. The New York Times sounded the alarm in 2007, citing cutbacks at the Dallas Morning News and the Tribune Co., which owns the Los Angeles Times and the Chicago Tribune. A year later, the Times revisited the issue, noting that Cox Newspapers and Advance Publications were shutting down their Washington operations. The American Journalism Review did an in-depth examination of the subject in 2009, declaring regional reporters an endangered species.
Still, no organization appears to have devised a plan to revive coverage of Washington decision-making and its impact on individual communities. The Regional Reporters Association maintains about 70 members, down from approximately 200 in the mid-1990s, said Herb Jackson, the group's president.
Jackson said his organization's membership seems to have stabilized recently, but the smaller size of Washington's regional press corps may well be permanent.
"I don't think it's coming roaring back," he said.
That seems to be the consensus among many current and former regional reporters, and many said they were troubled by this new reality.
"I think it's a real tragedy," said Bill Adair, Washington bureau chief for the Tampa Bay Times and founder of PolitiFact. "The trend has meant fewer eyeballs on government, and that's a terrible thing. We need more people watching government — more eyeballs."
Adair said the whittling away of regional reporting has resulted in less coverage of state congressional delegations as well as fewer journalists writing about how federal agencies affect average Americans.
"Too much of the media in Washington is covering the food fight and not the making of the food," he said. "Covering an agency like the Agriculture Department or the Department of Labor is a lost art."
Some state-level news organizations continue to cover Washington, including the Boston Globe. Its Washington office has six and half employees, more than many bureaus boast, though that's down from 10 in 2007.
"We have no intention of letting up," said Bureau Chief Christopher Rowland. "We cover Washington aggressively."
Rowland said the Globe's situation is unique because academics, lobbyists and journalists regularly bounce between Boston and Washington, inextricably linking the two cities and making their coverage particularly vital. Rowland's deputy, Michael Kranish, said abandoning Washington reporting would be like abandoning coverage of the Red Sox.
Some news services in Washington, including Hearst and McClatchy-Tribune, also remain committed to regional reporting.
McClatchy's Washington bureau chief, Jim Asher, said his team is increasing its focus on federal agencies, with an eye on regional coverage of government rule-making.
"We want to know what agriculture rules affect the agriculture states," he said. "We want to know what environmental rules affect offshore oil drilling."
Hearst and McClatchy help fill gaps in regional coverage by disseminating relevant stories to subscriber newspapers. And state-level political reporters across the country are also attempting to cover Washington from afar.
Yet being physically present on Capitol Hill has obvious advantages, said John Mulligan, former Washington correspondent for the Providence Journal.
"If you're looking at someone square in the eye — at a congressional hearing or a Providence zoning board meeting — it's easier to ask questions," he said.
It's also easier to get juicy news tips, according to the Sunlight Foundation's Kathy Kiely, who previously headed Washington bureaus for the Houston Post and the Arkansas Democrat-Gazette.
"Those kinds of tips are only going to be given to people who have worked a beat to the extent that they're a known individual, that people trust them," she said. "A lot of whistleblowing doesn't get done that might have gotten done before."
Kiely said the proliferation of journalists working for elite trade publications has also had a troubling effect.
"You have these people who are working for people who can afford to pay hundreds of dollars a year to subscribe — in other words, lobbyists and lawyers and special interests," she said. "When I was a regional correspondent, I always thought my job was like writing a letter home. I thought my job was to look out for people who couldn't afford a lobbyist."