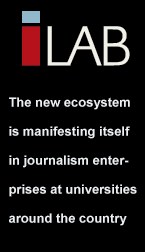 May 24, 2010
We know journalism isn't struggling as much as the business model that sustained it is crumbling.
But news organizations, both new initiatives and established media groups, are coming up with creative plans to help generate alternative forms of revenue to support their content.
And while advertising will always be a key piece of the revenue pie, news groups are trying other monetization tools, including pay walls and content syndication.
Syndication is "the controlled placement of the same content on multiple partnering Internet destinations," according to the recently formed Internet Content Syndication Council, comprised of hundreds of journalists, marketers and tech experts.
Members of the syndication council, formed in October 2007, include the Associated Press, Mochila, The Tribune Co. and Reuters Media. The council promotes Internet content syndication as a means of revenue generation and marketing. It also touts content syndication as a source of quality material for consumers.
The council's definition of syndication includes the overarching idea that those who are creating the content are controlling the placement of the content, as a means of generating revenue. This means those who are creating are being paid for the use of their work.
But the question remains, is online content syndication generating enough money to replace the broken business model?
The answer is no, say those running news organizations today.
While no one form of monetization is going to replace advertising for journalism organizations, of course, every revenue stream helps.
Louis Freedberg, director of California Watch, a project of the Center for Investigative Reporting, said his organization is looking at a broad spectrum of funding models, in addition to syndication.
California Watch has syndicated its content with hundreds of news outlets across the state, selling versions of its investigations to newspapers, radio stations and television stations.
"We definitely think the (business) model will be a diverse funding model, with some foundation funds, some advertising revenue and some fees for articles," Freedberg said.
"It will have to be a diversified funding model, and we're exploring all of our options here," he added. "But if we had to rely exclusively on that income at the moment … fortunately, we do have some foundation support."
Freedberg said he was not comfortable discussing actual revenue figures.
Voice of San Diego editor Andrew Donohue
Based on our research here at iLab, a division of the Investigative Reporting Workshop, content syndication is definitely a form of revenue that nonprofit news groups are looking toward to lessen their reliance on private foundation funding.
Andrew Donohue, editor of Voice of San Diego, said his organization began considering syndicating content last year. In addition to selling its stories, Voice of San Diego now offers images through its own photo store. The news group launched in 2005 as one of the first online-only news sites in the country.
Of the revenue generated from syndication, Donohue said, "At this moment, it's not anything significant, but what's exciting for us is the potential."
He added that the organization's goal is to have syndication bring in 10 to 20 percent of overall revenue. Today 35 percent of overall revenue comes from major individual donors, another 35 percent from corporations and membership, and the remaining 30 percent from foundation funding.
What Donohue finds most intriguing about this increased emphasis on syndication is that a majority of the outlets partnering with nonprofit news groups are newspapers.
"There is an interesting tension because it's built on revenue from news organizations that we all say are dying," he said.
Following is a look at a few news organizations taking the lead on syndication.
The Associated Press
The Associated Press, the first news wire service in America, is struggling with revenue, given the decrease in advertising dollars. To stay relevant to members, the news organization has been working to transform itself into an interactive news network that distributes content all over the world.
Members of the cooperative have become increasingly unhappy as they struggle to meet news needs with shrinking newsrooms and plummeting ad revenue while also paying for subscription services with the AP. And in recent years some newspapers have begun to see the AP as direct competition.
In 2008, the Tribune Co. dropped its subscription with the Associated Press, as did The Columbus Dispatch in Ohio. That same year, eight of Ohio's leading newspapers formed the Ohio News Organization, agreeing to share and use each other's stories.
Discontent among members had been growing as newspapers complained about losing ad revenue because of the AP's syndication deals with the same online portals with which they are competing. In an early response, the AP froze member assessment rates in 2006.
According to a 2009 article in the American Journalism Review, online portals became one of the AP's largest revenue sources, with fees accounting for nearly $125 million annually or 17 percent of the $748 million the AP collected in 2008.
Last year, facing a 6 percent drop in revenue and threatened member cancellations by more than 100 newspapers, the AP agreed to a $35 million rate reduction beginning January 2010. This was on top of a $30 million rate reduction instituted in 2009.
The AP said overall its revenue would drop by one-third from 2008 to 2010. For newspapers, this translates into an average 20 percent reduction in rates.
In addition, the AP modified its subscription services with a "Limited" version of its "Member Choice Complete" service. The "Limited" service is intended for members who have less of a need for national and world coverage.
The news organization also modified the termination notice required for members. Instead of a two-year notice period, the AP reduced the notification period to one year.
In its 2009 annual report, the AP reported that it finished 2008 with a profit of $36.9 million, compared to $45.8 million the previous year. Even though revenue grew more than 5 percent in 2008, overall expenses were also up.
The AP has been renegotiating its content syndication deals with Yahoo, MSN and Google. At the end of January, the AP and Yahoo announced they had reached an agreement. The AP does not discuss details of its agreements with online portals, said Jack Stokes, manager of media relations.
In a Feb. 2 New York Times article, Ken Doctor, a media analyst with Outsell, said the AP has been asking sites for more money, "but the aggregators have been arguing that with advertising down, news content is actually less valuable than it used to be."
He added that there has been a lot of debate about different pricing on different devices, or different content niches.
The same article noted that Yahoo News is dominated by AP content and the site attracts more traffic than Google News.
The AP is renegotiating its recently lapsed partnership with Google News, and is in talks with Microsoft's Bing search engine. Stokes said there are no announcements on either contract.
Center for Investigative Reporting – California Watch
As one of several new investigative reporting initiatives to launch online, California Watch, a project of the Center for Investigative Reporting, is trying to diversify its income stream.
As a nonprofit, CIR recognizes that generating revenue via a variety of platforms will create a more sustainable business model.
In a recent Nieman Journalism Lab article, media analyst Doctor said, "CIR has priced its work fairly inexpensively, in the low hundreds of dollars." He noted that as the business evolves, it is looking to syndication as a key business model.
Since launching, California Watch has sold stories to daily newspapers, broadcasters and online news sites.
At the recent American Society of News Editors summit, Robert Rosenthal, executive director of the Center for Investigative Reporting, said that selling their stories for $350 a piece to large newspapers is not a sustainable model.
But he has always said their goal is not to give anything away when comes to content. He wants California Watch to generate revenue from royalties, advertising and other activities.
For its first story on Homeland Security grant spending, the organization created 15 different versions, which included customizing story lengths and content for each client.
"We don't see ourselves as a wire service," Freedberg said. "Some of what we do would resemble that. But our media partners would be more involved in the story than typical wire services.
"This is how we are all going to survive the crisis. Pool these resources and pooling our strengths," he said.
Politico
The Politico Network is a content and ad-sharing group that includes newspapers, television, news websites and news aggregators. Reuters and Politico deliver Reuters stories and photos to members of the Politico Network.
Roy Schwartz, Politico's vice president and general sales manager, noted that in less than two years, the network has partnered with about 100 news groups.
Members receive access to Reuters and Politico stories and photos. In exchange, Politico sells online ads adjacent to Reuters stories on members' websites. Members receive 20 percent of the net revenue of ad sales. The higher the number of articles used by a member, the greater the share of ad revenue.
"It's still thriving, and I know that newspapers that are partners still use our content," said Beth Frerking, assistant managing editor of partnerships for Politico. "We still make money on it. It certainly remains profitable."
Frerking declined to go into specifics on revenue.
"Politico has been growing at a rapid pace, and I would say that there are other things we have been working on a lot more aggressively," Schwartz said.
While syndication remains a piece of Politico's overall revenue, it is mostly driven by advertising, Schwartz said ""We don't have a major source of revenue that includes people paying for our content. That was not the business model we pursued," he said.
Politico had been marketing its network offering advertisers access to a generally upscale audience.
Last summer, Politico partnered with QuadrantOne to increase the online reach of its network. On its website, Politico touts the partnership as giving advertisers access to about 6 million unique visitors per month, along with the combined audience of about 39 million unique visitors for the other roughly 340 sites in the network.
QuadrantOne, founded as a joint venture of Hearst Corp., The New York Times Co., Gannett Co. and Tribune Co., attracts 45 million unique users.
Schwartz said Politico will continue looking at the network in terms of how it fits into their overall business model.
GlobalPost
Since launching 15 months ago, GlobalPost reportedly is taking in about 12 percent of its revenue from syndication.
"Syndication has done very well. It's certainly a six-figure business. It's not a seven-figure business yet," said David Underhill, director of syndication. "My hope is it will get better."
To date, the organization has more than 30 syndication partners who have signed contracts to use GlobalPost content in print, on-air or online. Partners include the New York Daily News, the Pittsburgh Post-Gazette and the South China Morning Post.
"Our service is a lot broader than a wire service," he said. "We are a web-based multinational news service."
Partners pay a monthly flat rate and can use as much content from GlobalPost as they would like, online or in print.
"We offer a story feed of 60 to 70 original articles a week," Underhill said. "It mimics a wire service … We offer multimedia elements. We have video packages."
Charles Sennott, GlobalPost co-founder and executive editor, spoke at an event hosted by the George Washington University School of Media and Public Affairs in March, noting that the organization is relying on three revenue streams: advertising, syndication and membership.
CEO Phil Balboni reported to Mark Glaser of MediaShift that in its first year, advertising made up 70 percent of revenue for GlobalPost. The remaining 30 percent is made up by syndication deals and its premium subscription service, Passport.
He told Glaser that his goal is to have the revenue split closer to 50/50.
Freelance reporters receive stock options in GlobalPost and $1,000 a month to produce one, 800-word piece per week, as well as blog-like entries. Correspondents have complained that their pay is not enough to cover living expenses, and they are forced to take on a full-time job or multiple freelance jobs to survive.
The Washington Post/The Washington Post Writers Group
The Washington Post Writers Group has been around for more than 35 years as a press syndication service.
The Writers Group began with a small group of opinion journalists and has grown to include editorial cartoonists, comic strips and columnists, as well as the Newsweek News Service.
Recently the Washington Post Co. announced it would sell the nearly 80-year-old news magazine, which it bought in 1961. In making the announcement to Newsweek staff, Washington Post Co. Chairman Donald E. Graham said, "We have reported losses in the tens of millsion for the last two years."
Until the company finds a buyer and the buyer's intentions with the magazine are made clear, no one knows how the Newsweek sale will affect The Writers Group, said Managing Editor James Hill.
Separate from the Newsweek sale, Hill said The Writers Group "is a good source of revenue" for the Post but would not reveal specific figures.
He said the number of partners has remained relatively consistent, with some minor shrinkage over the past couple of years because of the recession.
The Writers Group recently partnered with Getty Images, as well, to sell Post photos on a per-use basis.
The Writers Group offers three different packages under the Newsweek News Service, which is sent to subscribers every Sunday. Each week, the service offers 25 to 30 stories to subscribers, depending on the package: News, Commentary or Arts & Entertainment.
The Writers Group also partners with PARS International Corp., the Cartoonist Group; and Pictopia Inc. to manage all reprint permission requests for articles, comic strips and photos owned by the Washington Post and the Washington Post Writers Group.
In addition to the Writers Group, the Post also has formed syndication partnerships, previously with the Los Angeles Times, and now with Bloomberg News. The Post split with the Times last year.
The more than 600 members of the Times-Post subscription service were notified of the end of the 47-year partnership. Members were told to choose which content they wanted to continue with, either the Times or the Post.
The split was blamed on cutbacks at the Times in association with the Tribune Co.'s purchase and merging of Times/Tribune Washington bureau offices.
Bizjournals.com estimated the annual revenue from the Times-Post service at $1.4 million, with profits split 50-50 by each party.
The Post's new deal with Bloomberg includes a joint news service, a combined online page of business news and Post stories on Bloomberg's financial terminals.
The new service is called The Washington Post News Service.