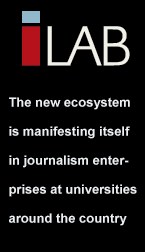 Oct. 7, 2015
The second week of October almost 850 participants from a record 120 countries will gather at Lillehammer in Norway. This time rural Lillehammer, or "Lilyhammer" as it is sometimes called, is not all about a New York mobster, as in the Netflix series. This time, the small village in the countryside of Norway will host the 9th Global Investigative Journalism Conference (GIJC).
In Norway, the talk of the year has been "the journalism crisis." Due to a different media structure, the falling income in the media industry hit Norway several years later than it hit the United States. With dramatic reductions in newsroom staff, many journalists and scholars ask themselves if professional, resource-demanding journalism is going to survive. Who will pay the salaries of the journalists in the future?
As a former journalist and editor, now a journalism teacher and doctoral student in Norway, I became interested in nonprofit centers at American universities, those in particular that partner with established newsrooms.
Olsen studies the nonprofit model of journalism globally.
One example is the partnership between the Investigative Reporting Workshop at American University and the investigations unit at The Washington Post. The Workshop pairs students with experienced journalists, letting them work together on real stories, which seems like a win-win situation: The newsroom gets extra resources through the students, and the students learn the profession hands-on, working with some of the best journalists in the country.
I spent the academic year of 2014-2015 studying four university centers that specialize in investigative journalism: The Investigative Reporting Workshop at American University, The Stabile Center for Investigative Journalism at Columbia University, the Investigative Reporting Program at the University of California, Berkeley, and the New England Center for Investigative Reporting at Boston University. Through 69 in-depth interviews, a content analysis of the last year's production at each center and more than a 100 days of observation, I hoped to be able to answer two questions:
• Can partnerships between universities and the established press help save and develop quality journalism?

• Is the model transferrable to Norway and the rest of Europe?
Today there are about 20 nonprofit centers like the Workshop at U.S. universities. Thus far, I have only found one similar center in the whole of Western Europe, at City University in London.
Photo by Jeff Watts, American University
John Sullivan, center, with former IRW graduate students Danielle DeCourcey, left, and Jessica Schulberg, right, in The Washington Post's newsroom. Today DeCourcey is an associate director at WHDH-TV in Boston, and Schulberg covers foreign policy for The Huffington Post. Sullivan is a senior editor at the Workshop, a professor and on the Post's investigative team.
My thought was that if the centers: 1) Produce quality journalism for a large audience, 2) provide and defend ideals and norms that urge quality journalism and 3) educate journalists who are capable of producing quality journalism, only then can this model claim that that it can help save and develop quality journalism.
My dissertation is not due until the summer of 2017, but I have three interesting findings so far:
1. Teaching and producing: As hybrids between newsrooms and classrooms, the centers combine the producing and teaching of journalism. They can do both, but is seems like each center has to choose if teaching or producing is the most important.
• If the focus is on producing, the students seem to be doing a lot of legwork: gathering documents, reading documents, transcribing interviews, etc. The reporting is done by more experienced journalists at the university centers or within the partnering newsrooms.

• If the focus is on teaching, less is produced, but the students take responsibility for the whole journalistic process, from legwork to reporting. During the process, students are assisted and guided by journalists at the centers, and/or by journalists from collaborating newsrooms.

• Students at producing-oriented centers are involved in more stories and get more bylines — but the bylines are often contribution bylines.

• Students at teaching-oriented centers are involved in fewer projects but often get single bylines.
Following from this, students learn very different things depending on the orientation of the center. As in most practical training, you get good at what you do. Students doing legwork get good at doing legwork. But since these students often work in teams, and within a newsroom environment, they also get valuable newsroom socialization. During the interviews, they said they learned a lot from watching other, more experienced journalists work. And they got a valuable professional network to rely upon in their future career.
The students at the more teaching-oriented centers, on the other hand, said they learned a lot about finding stories, planning and reporting. These students often longed for closer contact with the newsrooms, since they often were guided by, but did not collaborate with, experienced journalists from newsrooms or centers.
To make it more complicated, some of the centers are both teaching-oriented and producing- oriented. The Investigative Reporting Workshop, for instance, seemed to be more producing- oriented in the collaboration with newsrooms that include PBS FRONTLINE, WAMU-88.5 News and The Washington Post, while the work on the center's own stories, together with the journalists at the center, was more teaching-oriented.
"I found the truly revolutionary … is the ability to do investigative work when you're 22."
— Aaron Gregg, The Washington Post
2. Innovation: Some critiques of the "teaching hospital" model in journalism education say it teaches "young puppies to bark like old dogs." In a time when journalism needs innovation, they say, the students need to figure out their own way of doing journalism best — not learn all the habits of the experienced journalists in newsrooms that soon are going to shrink and vanish.
In this view, the teaching-oriented centers facilitate innovation better because they give the students more responsibility and freedom — instead of forcing them into the norms, values and habits of established newsrooms. There is a strong hierarchy in many newsrooms, which makes it hard for students to bring forward new ideas.
When presented this critique, the reporters and editors of the collaborating newsrooms and the journalists at most centers almost unanimously shook their heads. In their view, there is a journalistic standard everybody needs to know, independent of innovation. Dana Priest, a longtime, award-winning reporter in The Washington Post's investigative unit, who is also teaching now at the University of Maryland, puts it this way:
"I think the idea of innovation, which is really not so much about the reporting as it is about the presentation, is losing sight of the actual most important value of journalism, which is to unearth original information, especially information that people don't want you to have."
The tension between the traditional, professional ideals and norms of journalism — and the media industry's preoccupation with innovation — can be looked upon as professional "boundary work." To paraphrase Pierre Bourdieu: Journalists constantly engage in cultivating a distinctive logic, a form of professional habitus that either sets them apart from or links them to other fields. For instance, how much does a journalist need to be involved with the development in the new media landscape?
3. Autonomy: As in most professions, journalism has always sought autonomy. At first, however, it was dependent of partisan politics. Then it became part of market-oriented, bureaucratic news organizations. Professionalism was possible as long as commercial expectations and newsroom practices were kept at a distance. As many see it, the collapse of income now threatens journalistic autonomy. Journalists are forced to produce journalism that sells, instead of journalism that matters. In this view, collaboration between universities and newsrooms will not help build the profession.
On the contrary: The more journalism schools distance themselves from the profession, the more they can be a corrective to the profession. And this, they say, is important when the profession is on the wrong track. Instead of seeking to be part of the profession, journalism schools should produce quality journalism on their own terms — not be swallowed by the demands of quantity and profitability in the media industry.
Others argue that this approach will put journalism schools on the sidelines and make them less influential. They think it is better to work with the profession to make journalism betters rather than exist in a parallel world with no influence.
From the perspective of autonomy, it is also interesting to look at the nonprofit model itself. Does it make journalism more autonomous, or has it only "changed master," from a market-driven newsroom bureaucracy to a foundation-driven model.
The GIJC conference in Lillehammer will have more than 160 panels, workshops and special events. I will be especially interested in the so-called "academic track," where, among other subjects, different ways of teaching investigative reporting will be discussed. Collaboration between universities and newsrooms is one way of doing it — a form of master learning that seems to be very efficient in the education of practical professions. One main question is whether these collaborations are a groundbreaking way to teach journalism or just another way of making students work for free.
Photo by Madeline Beard, IRW
Aaron Gregg worked in both the Workshop and The Washington Post newsrooms as a student.
Either way, for a graduate student, working on big investigative projects seems like a pretty good deal. Most journalists have to work their way up in the newsroom first, and are not able to do investigative work until they have significant journalistic experience. Maybe the result of the university-newsroom collaborations will be that the average age among the participants at GIJC will fall dramatically in the future. Aaron Gregg, a graduate of Georgetown University and a former graduate researcher at the Investigative Reporting Workshop, who is now on staff at The Washington Post, says he finds the opportunity to learn investigative journalism at a young age hard to beat:
"I found the truly revolutionary, that cannot be found at literally any other journalism training program or internship that I've ever heard of, is the ability to do investigative work when you're 22 and have an experienced person holding your hand. … I think the fact that the hierarchy is breaking down as far as what you are supposed to do and when could have its downfalls, but it could also have its positives. One of those might be that a journalist gets to start doing investigative work at a younger age. And there are more opportunities to do that, which means you'll have more experience earlier in your career."
Gunhild Ring Olsen was a 2014-2015 Fulbright Scholar-in-Residence from Norway at the Investigative Journalism Workshop. She is Ph.D. candidate at the University of Bergen, researching nonprofit journalism and partnerships between the media and universities. Olsen also teaches journalism at Volda University College in Norway, and she is an experienced journalist and news editor.