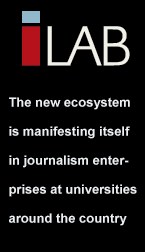 April 1, 2014
New book explores "moments of truth."
Charles Lewis, founding executive editor of the Investigative Reporting Workshop, has written "935 Lies: The Future of Truth and the Decline of America's Moral Integrity." The book will be published June 24, 2014, by PublicAffairs (a member of the Perseus Books group, based in New York). Between 1996 and 2004, Lewis co-authored five books with his Center for Public Integrity reporters/writers, and the last book, "The Buying of the President 2004," was a nationwide bestseller. Three of his co-authored Center books were finalists for the Investigative Reporters and Editors (IRE) book award.
Lewis began working on this first solo book in 2005 with a focus on the origins and trajectory of public relations and propaganda; the deadliest deceptions by government and companies; and the truth-telling capacity of journalists and their news organizations over the past century.
His research led him to explore national "moments of truth" in contemporary U.S. history —moments in which news organizations, through their deep, independent reporting, exposed egregious abuses of power and shaped history. With narratives and compelling examples, the book discusses the negative impact of media consolidation, the aggressive PR strategies of businesses and the persistent avoidance of transparency (and worse) by officials, right up to the White House.