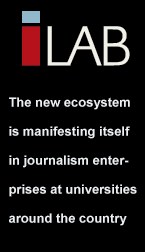 Feb. 15, 2013
2012 photo by Clem Murray, The Philadelphia Inquirer
Don Barlett, left, and Jim Steele's 2012 book, "The Betrayal of the American Dream," will be released in paperback in September.
Donald L. Barlett and James B. Steele are one of the most widely acclaimed investigative reporting teams in American journalism. They have worked together for more than 40 years, at The Philadelphia Inquirer, Time magazine and, most recently, at Vanity Fair as contributing editors. Their newest book, "The Betrayal of the American Dream," published in August 2012 and expected to be released in paperback in September, was researched with the help of staffers at the Investigative Reporting Workshop. The Workshop also published six of their stories as part of our ongoing series, "What Went Wrong: The Betrayal of the American Dream."
The two recently answered questions from Workshop Managing Editor Lynne Perri about how their journalistic efforts have evolved over time.
Using people with compelling narratives to illustrate the impact of policy has been a key part of your storytelling. How do you strategize finding that "right person," and how has this process changed?
For every person whose name is in one of our stories, there are countless more individuals we have interviewed either in person or by phone, but whose names ultimately did not appear. But their stories nevertheless became part of the "narrative" because they helped us see a pattern in terms of what was happening economically to the middle class. We always look at the economy from the bottom up, not the top down. We never set out to find a specific person; we just continue interviewing and then when that is concluded, we decide which profiles seem the strongest in making a point we believe needs to be told.
Have you used Facebook, Twitter, LinkedIn, Pinterest or other social media to find sources? If so, what tool has been most successful? If not, why not?
Over the years we have found people to interview through a variety of ways: court records, labor department filings, local newspaper clippings, bankruptcy cases, community organizations, regulatory proceedings. But for the research on "The Betrayal of the American Dream," in addition to those conventional sources, we also used social media, in particular LinkedIn. It seemed that anyone who had lost their job made sure that their profile was on LinkedIn as they looked for work. A LinkedIn connection, in turn, often led us to their Facebook page. While we did not use it extensively, Facebook has become a powerful reporting tool for reporters on breaking stories.
Our collaboration with the Investigative Reporting Workshop at AU on "The Betrayal" opened up an invaluable avenue to find people who had stories to tell. In announcing the project and periodically posting our findings on the IRW website, we urged readers to tell us their stories, and this led to some exceptional interviews with individuals across the nation, some of whose stories became part of the book.
Your biography of Howard Hughes, "Empire: The Life, Legend and Madness of Howard Hughes," continues to be in print and, as you talked about in a Q&A at American University last fall, continues to draw people who are convinced they are related to him. What techniques or methods did you use to find material in researching one person's life that could also be applicable to researching an issue? What did you do that was different? Why do think people are so drawn to this book?
Perhaps the most salient point about the research on Hughes — arguably one of the most secretive, private individuals who ever lived — was how much of the story of his life was pieced together from public records. Hughes saw only a handful of individuals face-to-face in the last two decades of his life, and none of them would speak for publication after his death, in part because of ongoing litigation and investigations after his death. But Hughes directly or through his aides did commit to writing an astonishing amount of information that shed light on his personality – his fear of contagion, anxiety over nuclear testing, his obsession for control. Because he did not leave a will, a vast amount of this material was entered into estate proceedings in multiple jurisdictions across America as states and lawyers battled to determine his domicile when he died. Lawsuits against him also shed light on his business methods, his personal idiosyncrasies and his wealth. The message out of all of this was so clear – never underestimate what you will find that is written down. Documents are such a treasure trove for journalists, but are still often overlooked.
Hughes continues to fascinate because of his impact on such a wide number of industries – Hollywood, aviation, defense contracting, the oil industry and gaming. He was a hero to some and a tragic recluse to others who left an indelible mark because of the radically different lives he led in his lifetime. He was truly one of a kind.
You have talked in the past about how, in some ways, it is so much easier to access material today than it was when, for example, you used to have to travel to a courthouse to look up records that are now available online. But sometimes you still go on foot to find your data and your research, as you did when looking into foreclosures in Florida and reviewed county records available at the courthouse as well as talking to people in veterans' centers and neighborhoods. Did you find or rediscover anything about being on site at the courthouse that made you think it was advantageous to show up in person? Have you developed any practices that help you know when it's best to go somewhere versus when it's most productive to stay at your desk and dig in to what you can find online?
We call this the "golden age" of research for investigative reporters because of the unprecedented access online to so much information. Most of this information has long been available, but one had to travel to various cities to review court records or other public documents. So much of this can be done online from a personal computer, and this greatly speeds up the process and deepens the reporting. However, we still believe strongly in getting out into what we call "the field." No matter how much work you do at your computer, no matter how much reading you may do, no matter how many phone conversations you may have, it is so important to visit with people in person. You get a fuller view of their lives and how they are coping. Personal contact greatly enriches the reporting.
In the case of "The Betrayal," a personal visit to the bankruptcy court in Fort Myers, Fla., was an eye-opener. While we knew the docket was clogged with cases, the assembly-line like way that judges were compelled to process the mountain of litigation left little room for them to study the nuances of each case and the particular circumstances that led to these personal tragedies.
There is no simple way to decide where to pay a personal visit and when to remain at the desk. It is totally subjective. All we can say is the more on-the-scene visits one makes, the better the story and deeper the understanding of the issue.
Do you still take extensive notes? Have you developed or further refined your shorthand over the years? Do you use a tape recorder, and if so, when and how often?
If we could go back to school, a shorthand course might not be a bad idea. Instead we both take notes, usually extensive, which are then quite often typed up. We use a tape recorder when possible. More and more people are comfortable with tape recorders today in a way they weren't many years ago. In addition, it is remarkable when a taped interview is played back how often one hears things that eluded notes and memory.
You have come back to some of the same people to track their progress or their circumstances, particularly those in dire economic straits, for both your books and your news stories as part of the "What Went Wrong" projects at The Philadelphia Inquirer and the Investigative Reporting Workshop. How have you encouraged and nurtured such relationships? Do you end up becoming friendly — or "professional friends" — with such sources? Do people ever say, "enough," or do you find that such long-term sources still want to talk to you?
We have compassion for the people we write about, and they know that. More than anything, that has formed a bond with them. We're not always able to keep in contact with everyone we write about, but with those we do, their stories continue to be part of our efforts to explain what is happening to the American middle class. We kept in touch off and on for nearly two decades with the Utah woman, Joy Whitehouse, whose heartrending story begins the first chapter of "The Betrayal." Most people we interview continue to talk to us and update us on their lives.
Any words of advice for today's young reporters who want to do in-depth projects?

In-depth projects, in whatever medium they are presented, require a special kind of patience and focus. The temptation to become diverted, especially in the Internet age when so much information is available at our fingertips, is overpowering. It goes without saying that the reporting is crucial. But of equal — no more — importance is the writing. To break through the chatter in our overheated media universe, the writing — the sharpening of one's points — is more crucial than ever. And in doing so, never forget the human factor. Always attempt to bring the human equation into the big issues of the day. That will connect with readers and viewers.