Posts tagged 'What Went Wrong'
Posted: Feb. 6, 2013 | Tags: Manufacturing, Sunlight Foundation, What Went Wrong
Reporter Michael Lawson, who continues to cover the economy for us as part of our "What Went Wrong" series, looks at the influence of innovative college engineering programs, and their potential impact on the growth of manufacturing in the country.
Lawson also branched out of his comfort zone last weekend when he participated in a "data fest" at Columbia University. Journalists, computer programmers and math wizards worked in teams to see if they could find, compile, analyze and then make more easily accessible databases related to government and campaign finances. Michael wrote about the challenges and the thrill of this ...
Posted: Oct. 2, 2012 | Tags: What Went Wrong
Join us for "Investigative Reporting: How It's Done," Tuesday, Oct. 9, in which Executive Editor Charles Lewis will be joined by reporters Donald Barlett and James Steele to talk about their recent work. The program will be at the Katzen Arts Center at American University in Washington and is free and open to the public.
Lewis will showcase the Investigating Power website, which higlights key moments in U.S. history and the journalists who covered them. Barlett and Steele will talk about "The Betrayal of the American Dream," their new book, researched in part by Workshop staffers. Barlett and ...
Posted: Sept. 12, 2012 | Tags: What Went Wrong
Michael Lawson, who covers the economy and jobs as part of the team on our What Went Wrong project, writes today about the Census Bureau's annual report on income, poverty and health insurance. Two of the headlines — that income is down and inequality is up — will come as no surprise. But the details are more nuanced and include the point that the poverty rate is flat.
Posted: Sept. 6, 2012 | Tags: What Went Wrong
As partisans rally behind their visions for the country at political conventions, the view of many Americans still remains bleak. Over the last two years, our What Went Wrong project has tracked the impact of the Great Recession and the Washington and Wall Street policies contributing to it. And now, despite improving economic conditions, a new report shows a record number of Americans are still feeding their families with government help. Nearly 47 million Americans, 15 percent of the population, used food stamps in June. The number of participants in the program, officially the Supplemental Nutritional Assistance Program (SNAP), has ...
Posted: Aug. 14, 2012 | Tags: What Went Wrong
Jobless claims edged down last week for the second week in a row. The Department of Labor reported Thursday that 6,000 fewer Americans filed unemployment claims.
But despite the economy adding a better-than-expected 163,000 jobs in July, at least 12 million Americans are still officially searching for a job. So are there enough jobs to sustain the American Dream?
A new report from the Center for Economic and Policy Research says good, quality jobs are on the decline. What is a good job? One that offers retirement and health benefits for starters.
If a job "had health insurance ...
Posted: June 21, 2011 | Tags: What Went Wrong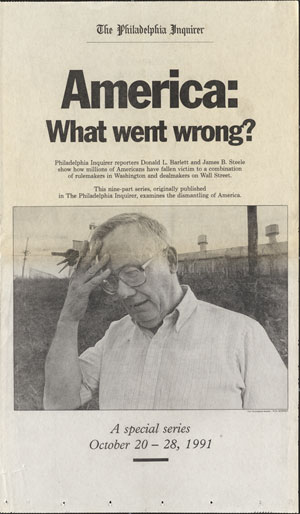 Don Barlett and Jim Steele held a live chat Monday, June 20, 2011 on Philly.com, the website of the Philadelphia Inquirer, read the full transcript here. They fielded questions on the trade deficit, and why Washington is focusing on debt rather than jobs. It was also a great opportunity for people interested in investigative business journalism to ask them questions – they've won every major investigative reporting award, except for the one named after them.

The Inquirer was the paper that published the original America: What Went Wrong series in 1991. We're thrilled to be partnering with the ...
Posted: June 18, 2011 | Tags: Investigative Reporting Workshop, What Went Wrong
What Went Wrong's Kat Aaron shares how she has been using social media to find and connect with interview subjects, and intern Vaughn Hillyard explains how more video is being integrated in to the website.
Read the full newsletter here.
Subscribe to the newsletter and stay up-to-date on the latest Workshop news by going here.
Posted: May 16, 2011 | Tags: Frontline, What Went Wrong
In this month's newsletter, Senior Editor Margaret Ebrahim talks about the Workshop's unique partnership with the award-winning TV documentary series PBS FRONTLINE. Reporter Michael Lawson shares the human side of economics reporting, and we welcome this summer's Workshop interns.
Subscribe to the newletter and stay up-to-date on the latest Workshop news by going here.
Posted: Jan. 5, 2011 | Tags: What Went Wrong
The Workshop is partnering with two titans of investigative reporting, Donald Barlett and James Steele, for a project exploring the state of poor and working people in America. In a recent post on their site, Barlett and Steele explain what exactly we're working on, and what the next year of reporting will hold.
Over the last year we've received some remarkable e-mails and letters about something we wrote nearly 20 years ago.

"Your story," wrote a man from Springfield, Ill., "is still going on, but, unfortunately, few people are aware of the causes, only the dire consequences."

Our ...