Posts tagged 'climate change'
Posted: Nov. 10, 2016 | Tags: climate change, Guns, health, journalism, reporting, Wisconsin Watch
Illustration by Sydney Ling, IRW
Sometimes, as both reporter and reader, news stories can feel a little repetitive. Another tragic shooting or overdose, leaving torn families in its wake. Another environmental disaster we may not be able to slow down in time. Another abuse of power, exposing biases, neglect or other shortcomings.
While it is the responsibility of journalists to report the news, it is also our responsibility to discover the stories behind these trends. The investigative pieces below provide critical analyses of events dominating the current news landscape, and, importantly, shed light on the stories behind the headlines in ...
Posted: May 16, 2014 | Tags: climate change
The Workshop's senior producer, Margaret Ebrahim, produced two stories for the "Years of Living Dangerously" series on climate change, and they air at 8 p.m. May 19 on Showtime. Here's a preview and more behind-the-scenes coverage.
Additional stories, science information and educational tools are available on the "Years" site and the Workshop's.
Posted: April 14, 2014 | Tags: climate change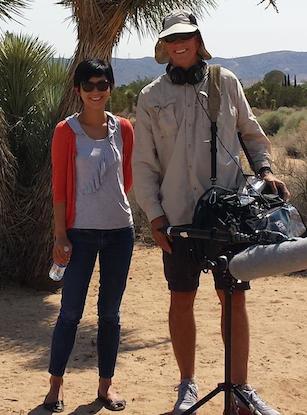 "Years of Living Dangerously" Associate Producer Jolie Lee and audio engineer Steve Miller filmed desert scenes in Lancaster, Calif.
On April 13, Showtime began "Years of Living Dangerously," a nine-part documentary on climate change created by executive producers James Cameron and Jerry Weintraub.
It's a series I've been fortunate enough to be a part of as an associate producer. I spent nearly a year working with Margaret Ebrahim, a series producer and Investigative Reporting Workshop senior editor, to research, report and produce stories for the series.
"Years of Living Dangerously" will explain the science of climate change and ...
Posted: Oct. 31, 2013 | Tags: climate change, IRE
"Years of Living Dangerously," to air on Showtime in April 2014, looks at the impact of climate change around the world. The Workshop's Senior Producer, Margaret Ebrahim, has been reporting two of the stories in the eight-part series: one explores the natural-gas boom and the other is about the rise in renewable energy development.
The series will feature actors Harrison Ford, Matt Damon, Olivia Munn, Jessica Alba, Don Cheadle, America Ferrera and Michael C. Hall as correspondents, as well as New York Times' columnists Mark Bittman and Thomas Friedman and CBS News' "60 Minutes" correspondent Lesley Stahl.
Ebrahim has ...