Posted: April 14, 2014 | Tags: climate change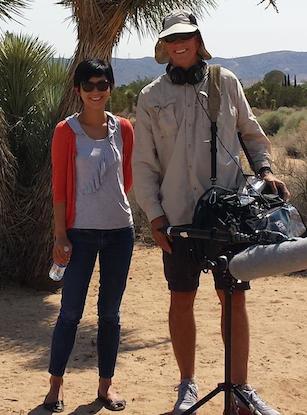 "Years of Living Dangerously" Associate Producer Jolie Lee and audio engineer Steve Miller filmed desert scenes in Lancaster, Calif.
On April 13, Showtime began "Years of Living Dangerously," a nine-part documentary on climate change created by executive producers James Cameron and Jerry Weintraub.
It's a series I've been fortunate enough to be a part of as an associate producer. I spent nearly a year working with Margaret Ebrahim, a series producer and Investigative Reporting Workshop senior editor, to research, report and produce stories for the series.
"Years of Living Dangerously" will explain the science of climate change and explore the policy fights to address the issue. Above all, the series aims to show the human impact of climate change.
Finding the right voices to tell this people-centered story was, to me, the most challenging part of the assignment. As a reporter, I have interviewed plenty of people on the job. But for documentary filmmaking, it was crucial to find people who were central to the narrative, could explain complex issues and were comfortable in front of a camera. We also had to find people whose emotion and passion could reach the audience on the other side of the TV screen.
From the Workshop's offices, Ebrahim and I spent countless hours talking to sources and many weeks criss-crossing the country to meet people — and decide who would be best to highlight the urgency of the issue.
We traveled to rural Kansas to meet Pete Ferrell, a rancher and pioneer in wind development. Like many other states, drought has crippled Kansas. Ferrell told our correspondent, actress America Ferrera, "Wind is my best cash crop in a drought because wind blows even during a drought." It's the reason he still can hold onto his family ranch.
Viewers will also meet Gaby Petron, a government scientist who is measuring how much methane is leaking from natural gas development in Colorado. Many people have probably heard that natural gas is a cleaner alternative than oil or coal. Many people have probably also heard about the fracking boom. But something that I was surprised to learn was that natural gas is mostly methane, and methane is a potent greenhouse gas. Petron is finding that emissions are much worse than what anyone thought, turning upside-down the assumption that natural gas is good for the environment.
Through the voices of these sources, and others, we hope to show that climate change isn't a far-removed story only about melting icecaps and polar bears; this is a story about real people.
Jolie Lee, now a journalist at USA TODAY, was an associate producer on "Years of Living Dangerously." Previously, she was a web editor and multimedia producer for Federal News Radio and a reporter for the Sun-Times Media Group. Lee received a bachelor's degree from the Medill School of Journalism at Northwestern University and her master's in Interactive Journalism from American University.