Archives for April, 2014
Posted: April 16, 2014 | Tags: journalism
The Investigative Reporting Workshop is thrilled and honored to report that our 2013 look into assessing the impact of journalism across nonprofit newsrooms, "Measuring Impact: The art, science and mystery of nonprofit news assessment," has received a 2013 Sigma Delta Chi Award from the Society of Professional Journalists in the "Research about Journalism" category.
Drawing from recent literature in the field in addition to informal conversations with journalism experts and seasoned practitioners, the report, made possible by funding from the McCormick Foundation, established several cornerstones upon which to build a common framework for assessing the impact of journalism — from ...
Posted: April 14, 2014 | Tags: climate change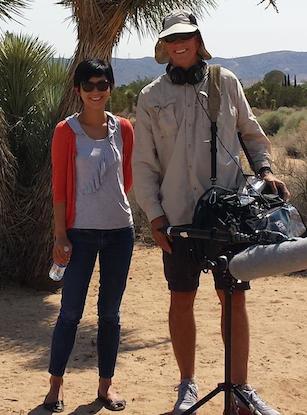 "Years of Living Dangerously" Associate Producer Jolie Lee and audio engineer Steve Miller filmed desert scenes in Lancaster, Calif.
On April 13, Showtime began "Years of Living Dangerously," a nine-part documentary on climate change created by executive producers James Cameron and Jerry Weintraub.
It's a series I've been fortunate enough to be a part of as an associate producer. I spent nearly a year working with Margaret Ebrahim, a series producer and Investigative Reporting Workshop senior editor, to research, report and produce stories for the series.
"Years of Living Dangerously" will explain the science of climate change and ...