Posted: Dec. 12, 2012 | Tags: Wendell Cochran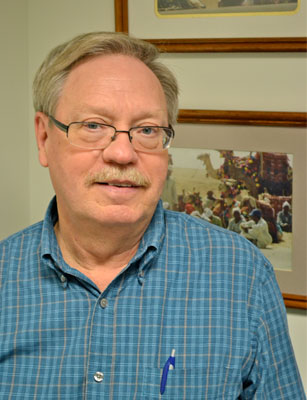 Photo by Madeline Beard, Investigative Reporting Workshop
It's hard to believe, but the Investigative Reporting Workshop will be 5 years old this spring. For me, helping create the Workshop and see it through its early years has been a highlight of my career as a journalist and professor, a career that's drawing to a close as I move into retirement. (I will still play a small role at the Workshop for the foreseeable future.)
It's even harder for me to believe that I have been involved in journalism for more than 45 years. Perhaps what is most remarkable is that I ever became a journalist. Growing up in a very rural area of eastern West Virginia, I was hardly surrounded by great journalistic role models. My tiny high school didn't even have a newspaper.
To be sure, my family were readers and we subscribed to a nearby daily newspaper, the county weekly and on Sundays, The Washington Post. Things have changed a lot. I still subscribe to a couple of daily papers, one of which I read on my Kindle, but on a recent morning a woman sat down beside me on the bus, clutching that day's Washington Post. Noting that I was reading The New York Times, she said, "You're a holdout for newspapers, too."
I decided to major in journalism, almost on a whim Honestly, it was because I knew I wouldn't have to take a lot of math and science courses. I soon was hooked. Between my freshman and sophomore years I had a summer internship at the Daily News-Record in Harrisonburg, Va., one of the papers I'd read as a child. If I'd any doubts about my path they were resolved that summer. From then on, I worked as a reporter and editor while I was still a student, essentially jumpstarting my career.
In fact, one of the biggest stories I ever worked on occurred in November 1968, the fall of my senior year at West Virginia University. A coal mine about 30 miles away from the university exploded, killing 78 men. There hasn't been a worse U.S. mine disaster since. I covered the story alongside reporters for many national publications and broadcast outlets, and I discovered that I could hold my own. The disaster led to significant, but still insufficient, improvements in mine safety laws. It also led to a revolt inside the United Mine Workers of America.
While it was an invigorating and important story, I've never forgotten that it came at a horrible human price. When I think of that day, I see the black smoke billowing out of the portal, and I see the faces of the women whose husbands, sons and brothers had been killed in the most horrific way imaginable. That community will never be the same. One of the unfortunate realities of journalism is that much of our work is framed by human tragedy; I think knowing that has always let me see the "other side" of any situation and to be empathetic, if not sympathetic, to my sources. Another thing that stuck with me from that story was the power of being able to get federal documents through the then-new Freedom of Information Act. One of my editors there was Mickey Furfari, now in his 90s and still writing about WVU sports.
While a graduate student at the University of Missouri, I did a summer internship in the Washington bureau of the Kansas City Star. It was the summer of 1974 and the night President Nixon resigned. I had a small part of the Watergate story. I helped do the reaction story and one of my interviews was with Sen. Bob Dole of Kansas, later the Senate Majority Leader and the unsuccessful Republican candidate for president in 1996. A few days before the president resigned, I was looking for a story. I decided to go on the White House tour (it was a lot easier to get into in those days) to see what people were talking about. You wouldn't have known from their conversation and comments that the nation was in the midst of a constitutional crisis. I will always remember one woman loudly pointing out a hole in the Blue Room carpet. To the best of my recollection, the word "Watergate" was never uttered by anyone on the tour, again showing me that my concerns as a journalist didn't — and don't — necessarily overlap those of my audience.
Another lasting legacy from Missouri was taking a class that used Phil Meyer's "Precision Journalism" as the text. I also took a business reporting class. Both would turn out to be linchpins to my career.
After graduate school, I took a fulltime job on the business desk of The Star in Kansas City. I'm pretty sure I was, in 1975, the first person the paper had ever hired directly to be a business reporter; in those days business journalism was considered a backwater. I had wanted to be a political or government reporter, but mostly I wanted and needed a job to support my wife and young son and the nation was in the grip of the worst post-war recession (until 2008-09). The business editor took me under his wing and sent me to classes in accounting and analyzing financial statements. He also got me interested and involved in covering banking and finance. One of my assignments was covering the wheat futures trading on the Kansas City Board of Trade. Traveling through the vast open spaces of western Kansas was a revelation to a boy from a landlocked mountain cove in West Virginia. In the summer of 1976, I helped cover the bicentennial, meeting an elderly farmer whose family had lived in a sod dugout in the 1800s.
I've had datelines from nearly 40 states, but my favorite remains Pretty Prairie, Kan. It was a story about how neighbors helped an ill Kansas farmer harvest his wheat crop before a hailstorm could destroy it.
I also did my first real investigative story at The Star, about a fraudulent insurance scheme. Investigative Reporters and Editors Inc. was formed while I was in Kansas City and Star reporter Harry Jones was part of the crew that went to Arizona to investigate the murder of Don Bolles. The Star was the first, but not the last, newspaper sale I endured, when it was sold in 1977 to Capital Cities. It's now part of the McClatchy chain.
I moved to the Des Moines Register in the summer of 1978 to be a business reporter. The Register was more than just a newspaper — it was a statewide institution. Nurtured by the amazing Cowles family, the Register circulated in all 99 counties and had considerable influence in state politics and policy. The Register had an outstanding staff of reporters and editors, many of whom were Iowa natives, including Michael Gartner, who had been front page editor of The Wall Street Journal before coming home to be editor of The Register.
The big story in Des Moines, then and now, is the health of the state's agriculture, which underpins much of the economy. For nearly the whole time I was in Iowa, farming was a business under stress and so were many of the businesses depending on it, including many banks. In the early 1980s, particularly after President Carter shut off grain exports to the Soviet Union in response to the invasion of Afghanistan, there was a wave of farm foreclosures and a rash of bank failures.
At the same time, personal computers were becoming cheaper and more available; I got interested in figuring out how to use them as part of my reporting. I decided to do a study of the state's banks and got the Federal Deposit Insurance Corp. to send me two years' worth of paper reports on every bank in the state. We had bought a Commodore 64 (the 64 stood for 64K of memory!) and there was a database manager program available for it. I went to my basement and in a few weeks emerged with a huge table of data, along with a formula for measuring bank health. The analysis let me write a story saying that banks with high concentrations of farm loans were more likely to fail, and we had the numbers to back it up. Published in 1982 or 1983, it was the first computer-assisted story I did and was among the first published by a daily newspaper. In 1985, I had the uncomfortable assignment of covering the sale of The Register to Gannett.
In 1986, I got the chance to move to Washington as a correspondent for Gannett News Service. At first I covered the Illinois and Indiana delegations to Congress, including Sen. Richard Lugar, Sen. Dan Quayle and Sen. Paul Simon, a former newspaperman who was among the most gracious people I ever met; later I covered his bid for the Democratic nomination for president and Quayle's nomination as vice president. I also wrote about farm bills, the S&L crisis and I reprised my Iowa bank work as a part of a nationwide computer-assisted reporting project for USA TODAY. Eventually, I became the GNS special projects editor, where I oversaw data-driven stories about congressional spending, employment discrimination on Capitol Hill and police brutality. I also worked on a major health care fraud investigation. I helped edit GNS' 1991 Pulitzer Prize-winning story that showed how errors by medical examiners let hundreds of child abuse-related deaths go undetected each year.
While I was at Gannett I began my teaching career with adjunct classes at George Washington University My first class was the night President George H.W. Bush launched the first Gulf war. In the fall of 1992, I took a one-year appointment to help the School of Communication at American University move into the digital age. I returned to GNS in 1993, while continuing to teach as an adjunct at American. I was appointed to a tenure track line at AU in the fall of 1994.
I immediately fell in love with the American journalism faculty. Dean Sanford "Sandy" Ungar, who had worked at The Washington Post and been host of All Things Considered, liked to say schools can either "teach journalism or teach about journalism." SOC, he declared, "teaches journalism." I shared a hallway with Rose Ann Robertson (now our associate dean), who had been a national news editor for The Associated Press, and Wendy Swallow, who had covered business for The Washington Post. In short, it was like a quieter, more reflective newsroom. I continued writing for agricultural magazines and started a website to give journalists access to campaign finance data. I also began teaching journalism ethics, partly as a tribute to Professor Edmund Lambeth, my graduate school adviser and a giant in the field.
It has been a tumultuous time in journalism education, mirroring what has been going on in the profession and many of my colleagues worry, with good reason, about the future. But when I think about the students I have had the privilege of teaching, I am comforted in the knowledge that the future of journalism, whatever it is, is in good hands. I won't name names, for fear of leaving out someone. Actually, I am quite optimistic about the field, knowing that we have some of the smartest people who have ever been journalists, with some of the most powerful tools we have ever had at a time when there never has been a greater need for high-quality journalism.
I was fortunate enough to be granted tenure in the spring of 1999. After returning from sabbatical, I became journalism division director in 2001, a post I held for eight years. It was perhaps the most rewarding period of my career as I worked with a highly talented faculty to rework our curriculum to meet the changing professional landscape. That effort to reshape our curriculum continues. Working with Dean Larry Kirkman, we were able to help the American University journalism program raise its profile, and have added more highly qualified professionals and academics to our faculty.
The most important of those was when Charles Lewis, the founder of the Center for Public Integrity, agreed to join the faculty in 2006. Chuck brought his unsurpassed energy, his Rolodex of the biggest names in journalism and his passion for hard-hitting investigative journalism. His favorite phrase is that he wants to "investigate the bastards." Out of that came the creation of the Investigative Reporting Workshop in the spring of 2008.
But that, as they say, is another story, for another time.