Posted: June 28, 2010 | Tags: journalism-ecosystem, MOB Conference, Pew Internet Project
Since 2000, news has become "pervasive, portable, personalized, participarty — and a social experience."
This was among the findings by the Pew Internet Project's latest study on "How Media Consumption Has Changed Since 2000."
Project Director Lee Rainie spoke at the "Monetizing Online Business" conference last week in New York.
The study found that 62 percent of Americans use the Internet on an average day, while 56 percent say they go online to have fun or kill time.
The number of people going online to find their news (61 percent) is catching up to the number of people who turn to their local TV (78 percent) and cable stations (73 percent).
More and more people are accessing the news online and via their cell phones. And as online news sites increase, people will be bombarded with more information.
The study also found that "social networks matter more as sentries, filters, curators and distribution channels of news."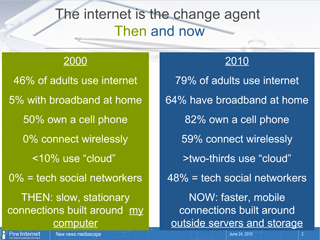 Roughly half of the news consumers surveyed said they rely on the people around them to share important news with them, while 69 percent said keeping up with the news is a "social or civic obligation."
Yet it's a time of contradiction, according to the study.
While the American public has access to more news sources then ever before, people are spending less time with the news. While the new media technology allows for individuals to customize their news experiences, there is less brand loyalty among news sites. The study found that 65 percent of Americans do not have a favorite online news source.
The conclusion from this study, according to Rainie, is that "news organizations have to figure out where they can add value in the news chain."
Rainie refers to what he calls the "Tom Rosenstiel Model," which looks at the news as a service — not as a product. Rosenstiel is director of the Project for Excellence in Journalism. In the Rosenstiel Model, 21st century media has eight functions: authentication; watch dog; witness; forum leader; sense making; smart aggregation; empowerment; and role model.